Duke of Edinburgh's ex-aide denies sexual assault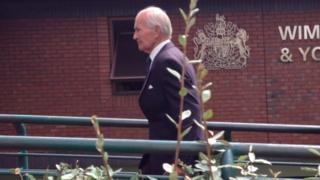 A former personal assistant to the Duke of Edinburgh has denied sexually abusing a girl in the early 1970s.
Benjamin Herman, 79, is charged with three indecent assaults between 1972 and 1974, during which time he served as an equerry to Prince Philip.
Prosecutors say the alleged victim was around 12 at the time.
At Wimbledon Magistrates' Court Mr Herman, of Hook, Hampshire, denied the charges and was granted bail, to appear at Kingston Crown Court on 18 August.
The assaults are alleged to have been carried out at a house in London used by military personnel where Mr Herman was living at the time, the court heard.
He was a serving major in the Royal Marines at the time, on secondment as equerry - handling engagements and private matters - to the Duke of Edinburgh, prosecutor Frances Lockhart told the court.