More Britons leave Libya as violence 'worsens'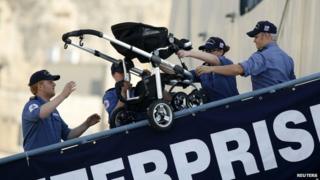 The Royal Navy has transported 93 more people out of Libya as the situation in the country "continues to get worse".
HMS Enterprise arrived in Malta on Wednesday, carrying people - mostly Britons - collected from Tripoli.
The Foreign Office said it had helped more than 200 British and EU citizens to leave in total, while "many others" had left without government assistance.
The British embassy in Libya has closed amid recent fighting between rival factions which has left hundreds dead.
It is the second "assisted departure" from Libya organised by the British government in recent days.
'Urged to leave'
HMS Enterprise, which had been conducting routine survey work in the Mediterranean, arrived in Malta on Monday carrying 110 people.
The Foreign Office, which has advised against all travel to Libya, said the "security situation continues to get worse".
"The British embassy in Libya temporarily closed on 5 August and as a result we are no longer able to offer consular assistance in Libya," a spokesman said.
"British nationals in Libya are strongly urged to leave immediately by commercial means."
Any Britons still in Libya who need assistance are advised to contact the Foreign Office.
Rival groups have been involved in a power struggle in Libya since the overthrow of former leader Colonel Muammar Gaddafi in 2011.
There has been fighting in recent weeks between militias - one established by the outgoing parliament and one controlled by the defence ministry - and more than 200 people have died in the capital, Tripoli, and the second-largest city, Benghazi.