Criminals jailed by magistrates to pay victim surcharge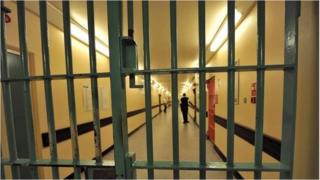 Criminals jailed by magistrates' courts in England and Wales will no longer be excused from victim surcharge payments by serving extra prison time.
Courts can currently give extra days in jail instead of making offenders pay the money, which goes to help victims.
But from 1 September this will no longer be allowed - a change the government says will raise "up to £1.5 million more per year" for victims.
The charity Victim Support said the surcharges must be "robustly enforced".
The victim surcharge is payable by people sentenced for criminal offences, and the money raised funds a variety of services for victims of crime. It was introduced in 2007 and the government says it has raised £51m since 2010.
The latest change, brought in under the Anti-social Behaviour, Crime and Policing Act 2014, means magistrates jailing someone for an offence cannot give them an additional prison sentence as a "default" for not paying the surcharge.
'Groundbreaking' help
"It is only right that offenders should pay both for their crimes and to help repair the damage they have done," said victims' minister Mike Penning.
"The money being raised through the surcharge is already being put to use in some groundbreaking ways to help people move on with their lives as much as possible."
People jailed by magistrates' courts will have to pay £80 if their sentence is less than six months, and people jailed for up to 12 months will pay £100.
It is expected it will apply to 43,000 cases per year, the Ministry of Justice said.
Adam Pemberton, assistant chief executive of Victim Support, said the surcharge "forces offenders to put something back into society".
"An extension to the scheme will mean a lot more offenders are making that contribution," he said.
'Real difference'
"But this only works if, along with court fines and compensation orders... payments are robustly enforced."
Victims' Commissioner Baroness Newlove said offenders "should pay for the pain they inflict on victims".
She added: "I am pleased the government has recognised this by extending the surcharge to give more victims the support they deserve.
"But around £12m has still not been collected - this is not good enough. I want to see more of this money recovered - so it can make a real difference to those who have suffered from crime and improve the services they receive."