Call for better regulation of regional bus services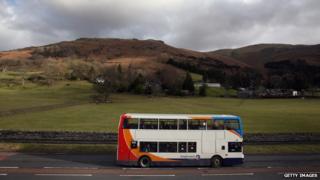 Bus services outside London need better regulation, according to a report by a centre-left think tank.
The Institute for Public Policy Research said the subsidised London system was a success, but deregulation elsewhere had "largely failed".
Since 1986, overall bus use outside London has fallen by 32.5%, while rising 99% in London, it said.
Uncompetitive providers should be "held to account", it urged.
The IPPR said around 2.5m people in Great Britain outside London commuted to work by bus, making up 8.5% of the working population.
The report said that, although passenger numbers have dropped by a third outside London since 1986, the poorest made three times as many trips by bus as the richest.
It said the poorest 20% of households had resorted to taking taxis in some cases, more than any other group in society.
Earlier this year, the Local Government Association warned that elderly and disabled passengers could lose vital bus services because of cuts in government funding.
The Department for Transport said it provides "significant funding for bus services across England and Wales."
A spokesperson for the department said: "Decisions about bus services are best made locally in partnership between councils and the companies which run the buses, and to make this easier the government has recently devolved a further £40m of the money spent nationally on bus subsidy to local councils outside London."
'Deregulation failure'
Will Straw, associate director at the IPPR, said: "London has the best buses in Britain and that's no accident.
"Examples of successful bus markets outside London are all too rare so local transport bodies should be given greater powers to hold uncompetitive providers to account."
Stephen Glaister, a transport economist and former TfL board member who advised the government on deregulation in the 1980s, opposes the regulation of regional services.
He said: "The reason London has done so very well has been an enormous increase in the amount of public money going into subsidising the level of service.
"Out of London that hasn't happened, and local authorities, as we all know, are struggling a great deal with their finances.
"I can't imagine how rural services, which are already procured under tender by local authorities, will be helped by the regulatory system."
Transport industry body CPT, which represents major bus operators including Arriva, FirstGroup, and Stagecoach, said that there would be "absolutely no justification" for having bus operations regulated by local transport authorities.
"Time and again the evidence shows that where bus services are under the control of cash-strapped local authorities fares are higher, the market is less stable, services are being lost, and passenger satisfaction rates are lower," said CPT chief executive Simon Posner.
The most expensive urban weekly bus ticket in the country is sold in London, he added.