Dave Lee Travis 'a tactile person' but no 'moron'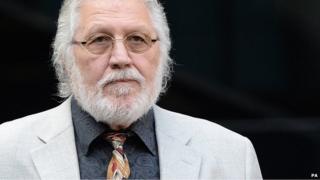 Dave Lee Travis is a "tactile person" but not a "moron", the former Radio 1 DJ told a court as he denied assaulting a woman at a pantomime.
He also told Southwark Crown Court he would not approach a stranger and "pinch their bottom".
The 69-year-old said he had had "two years of hell" as a result of the allegations, and described the alleged victims as "liars".
Mr Travis denies two counts of indecent assault and one of sexual assault.
He is being retried on one count of indecent assault of a woman in the 1990s and another of sexual assault on a different woman in 2008 - after a jury failed to reach verdicts earlier this year.
Mr Travis, who is on trial under his real name, David Griffin, has also pleaded not guilty to an additional count of indecent assault alleged to have taken place in Manchester on 17 January 1995.
'Baddie' role
Asked about the charge of indecently assaulting a woman at a pantomime, Mr Travis said: "It doesn't bear thinking about to be honest."
He said: "The thought of sexually attacking someone as part of that team is just not something you would want to do. You would have to be a complete moron to do that - something that I am hoping that no-one is going to suggest is that I am a moron."
He said he enjoyed playing a baddie saying: "I relish it, there is nothing better than going on stage and saying 'I hate kids'."
Questioned by his barrister Stephen Vullo, Mr Travis said pinching someone's bottom was a line he had not crossed.
He said he was "tactile with everybody - men, women, certainly women, anyone because it's just a natural thing for me to greet someone.
"I give a squeeze and have been known to give a guy a hug and a kiss on the cheek if I know he is a great guy."
'Terrible word'
Mr Travis also told the court Radio 1 had made him famous but that he had also made personal appearances to boost his income as the pay was "pretty pathetic".
And asked if he had worked since his arrest in November 2012, he said he had not "done a single thing".
Mr Travis said his career was effectively "stopped dead" when he was arrested.
He told the court: "I've had two years of hell, lost half a million pounds, my life and house... this is made-up rubbish."
He also criticised police and prosecutors.
Commenting on his former Radio 1 colleague the late Jimmy Savile, he told the court that, while they were contemporaries, he "never had a sensible conversation with him because he put up a wall".
Mr Travis, a keen photographer, also denied that he was sleazy in the way he approached his work with the camera.
One of his previous projects included taking images of people and asking what they liked or disliked about themselves.
He said: "No, sleazy is a terrible word that is easily bandied about. Sleazy has nothing to with what I did ever."
Later, he said he liked to photograph women because "they're great subjects", adding: "They have wonderful curves and things."
The trial continues.