MH17 crash: UK Government urges access for investigators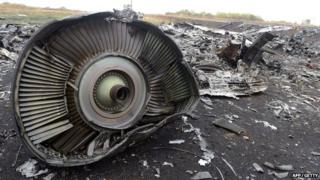 The UK government has made a new plea to Russia to help investigators access the MH17 crash site in eastern Ukraine.
Europe minister David Lidington urged Russia to use its influence over separatist fighters to allow experts on to the site where the Malaysia Airlines plane crashed in July.
His meeting with Russian ambassador in London Alexander Yakovenko came after a ceasefire was announced between Ukranian troops and pro-Russian rebels.
All 298 people on board MH17 died.
The plane was flying from Amsterdam to Kuala Lumpur when it crashed over rebel-held territory.
A report by Dutch experts said this week that MH17 was struck by objects that "pierced the plane at high velocity".
The crash site has been too dangerous for investigators to access due to fighting between government troops and pro-Russia rebels.
Mr Lidington said: "I welcomed the ceasefire in eastern Ukraine and called on Russia to take immediate steps to end the violence for good, particularly stopping the supply of armour, weapons and personnel across the border and removing all the people and military equipment it has already delivered.
"I also made clear that EU sanctions were being imposed as a direct response to Russian actions and would remain in place until we see evidence of a change of direction.
"In light of the recently announced ceasefire, I called on Russia to use its influence with separatists to ensure that investigators have access to the crash site of flight MH17."
Foreign Secretary Philip Hammond said on Wednesday that the blood of the victims were "on the hands of Russia's leadership".
Speaking in the Commons, he also said that Russia had "chosen the role of pariah rather than partner" by its "illegal annexation of Crimea and its aggressive destabilisation of Ukraine".
Satellite image of MH17 debris site
The Dutch Safety Board report did not apportion blame for the crash, which claimed the lives of 10 Britons, but Western governments have said that a surface-to-air missile fired by Moscow-backed rebels caused the disaster.
The report made no comment on who might have fired the missile.
Those who compiled the report had to rely on cockpit data, air traffic control and photographic evidence.
Malaysian Transport Minister Liow Tiong Lai has also called on both sides to grant investigators full access.
More than 2,600 people have been killed and thousands more wounded since violence between rebels and Ukrainian government forces erupted in April.