David Haines: Hostage's family appeal for IS contact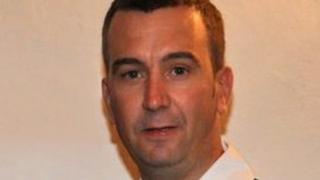 The family of a British man being held hostage by Islamic State (IS) militants have appealed to his captors to make contact with them.
A statement from the family of David Haines said the militants, who have beheaded two US journalists, had not replied to previous messages.
Mr Haines, 44, from Perth, was kidnapped last year while helping to deliver humanitarian aid in Syria.
IS has threatened to kill him in response to US air strikes in Iraq.
The family statement, which was released by the UK Foreign Office and addressed the militants directly, said: "We are the family of David Haines.
"We have sent messages to you to which we have not received a reply. We are asking those holding David to make contact with us."
Online video
The militant group, which has seized large swathes of territory in Iraq and Syria and declared a new caliphate - or Islamic state - has killed two US hostages in recent weeks, posting video evidence on the internet.
IS has threatened to next kill aid worker Mr Haines unless US air strikes on its positions in Iraq are halted.
The threat was made during a video posted online showing the killing of US journalist Steven Sotloff earlier this month.
The extremist group killed another US journalist, James Foley, last month, releasing a similar video.
Foreign Secretary Philip Hammond has said the government was doing "everything" it could to protect Mr Haines.
The father-of-two was taken hostage in the village of Atmeh, in the Idlib province of Syria, in March 2013.
He had been helping French agency Acted deliver humanitarian aid, having previously helped local people in Libya and South Sudan.
'Deeply shocked'
Acted last week said it was "deeply shocked" by the images of Mr Haines broadcast by IS militants and said threats to his life were "intolerable".
The charity called for the "immediate release" of Mr Haines.
Imams across Scotland - where Mr Haines's parents still live - last week used Friday prayers to reiterate their opposition to extremism and call for all hostages to be released.
Counter-terrorism expert Will Geddes says direct appeals to hostage takers are made for a number of reasons.
"It could be appealing to the kidnappers, to their humanitarian side, to try and get them to see the human, humanity of the hostage that they've got," held BBC Radio 5 live.
"The second thing could be the lack or breakdown of communications, bearing in mind that there could be any number of links in the chain in any number of discussions.
"To do a public statement by the family is one way certainly to get that message to them very, very quickly."