Venables officer paid £40,000 by tabloids, court hears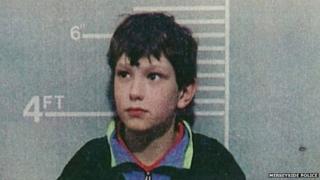 Tabloids paid a prison officer more than £40,000 for information on child killer Jon Venables, a court has heard.
Scott Chapman, 42, is accused of providing the information to newspapers whilst working at the jail Venables served time at in 2010.
The officer appeared in court on Tuesday charged with misconduct in a public office, which he denies.
Prosecutors allege seven tabloid newspapers were involved.
'Plain, naked greed'
Opening the prosecution at the Old Bailey, Jonathan Rees QC said: "Scott Chapman abused his position as a prison officer by providing information about Jon Venables to newspapers.
"His motive was not to expose some perceived failings in the prison system, but plain, naked greed."
Mr Chapman stands accused with his ex-partner Lynn Gaffney, 40, whom prosecutors say he shared a third of his earnings with. She too denies the charges.
Daily Star Sunday reporter Tom Savage and a News Of The World journalist, who cannot be named for legal reasons, are also accused of conspiring to commit misconduct in a public office. They also deny the charges.
The Sun, the News Of The World, the Daily Mirror, the Sunday Mirror, the People, the Daily Star and the Daily Star Sunday are all alleged to have paid Mr Chapman for information.
Mr Rees told the court that the first article containing information from Mr Chapman appeared in the Sun on 25 March 2010.
The story detailed how Venables had been given his own "private den" at the prison complete with 36in screen TV and board games.
Clear indication
Mr Chapman's name and other details were later found in the notebook of another journalist next to the date 23 March.
The court heard how Mr Chapman allegedly sent a journalist a message containing a photograph of his prison ID card, before later asking it to be deleted.
It was also said in court that the accused asked for his phone number to be deleted, providing an alternative pay-as-you-go number, and asked to be known by the pseudonym "Adam". Mr Rees said this was a clear indication that Chapman knew he was breaking the law.
Mr Chapman earned around £29,000 per year working as a prison officer before he left the prison in June 2011, having begun working there in January 2003.
Venables was jailed for life for murdering James Bulger in 1993 and was given a new identity after being released on licence.
His parole was revoked in 2010 after he admitted downloading and distributing indecent images of children and he was jailed for a further two years.