Operation Elveden: Sun staff 'indifferent' to leak risks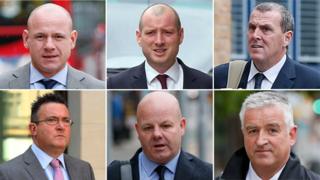 Six Sun journalists endangered hospital staff and patients by illegally buying stories, a jury has been told.
The men showed "casual indifference" to the security risks caused by leaks from Broadmoor Special Hospital, prosecutors told Kingston Crown Court in London.
One defendant, James Pyatt, said the hospital was a "gold mine" for stories.
All six former Sun staff are accused of buying confidential information on the Royal Family, celebrities and prison inmates. They deny the charges.
Between 2007 and 2010 Mr Pyatt's main source at Broadmoor was healthcare assistant Robert Neave - nicknamed "Tipster Bob", the court heard.
'Mole hunt'
Payments to Mr Neave were authorised by the Sun's head of news Chris Pharo and ex-deputy news editor Ben O'Driscoll, the prosecution said.
Mr Pyatt, the paper's Thames Valley reporter, allegedly gained access to the medical records of Peter Sutcliffe, known as the Yorkshire Ripper, and obtained a picture of convicted murderer Robert Napper in the hospital's gardens.
Prosecutor Peter Wright QC, said: "A breach of the duty of confidentiality breeds mistrust generally, in staff and in patients alike.
"It exposes others to the risk of reprisal, it is corrosive of the necessary trust between patients, staff and treating physicians."
Broadmoor conducted a "mole hunt" in an attempt to discover the source of the Sun's stories.
The court heard that on Boxing Day 2007, Mr Pyatt warned Mr O'Driscoll and Mr Pharo in an email that officials were searching for his contact and it was "obvious he cannot have News International payments in his bank account".
Mr Pharo, Mr Pyatt and Mr O'Driscoll are also alleged to have paid an Army private to track Prince Harry's movements during his military training at Sandhurst, the jury heard.
Mr Pyatt allegedly gave the soldier £500 in March 2006 before any stories had even been published "to get him totally onside for the future".
Prison officers were also allegedly paid for stories about inmates, the court heard.
Ex-managing editor Graham Dudman allegedly signed off for John Troup to pay £300 in relation to a story about an inmate at HMP Whitemoor who had killed himself in 2012.
'Public interest'
The six men are together accused of an "over-arching" plot to commit misconduct in a public office and separately charged with being involved in "sub-conspiracies".
They were arrested as part of Operation Elveden, Scotland Yard's investigation into corrupt payments to public officials.
Mr Pharo faces a total of six charges of conspiring to commit misconduct in a public office, while ex-managing editor Mr Dudman and Mr O'Driscoll are accused of four.
Mr Pyatt and picture editor John Edwards are charged with three counts each and ex-Sun reporter John Troup is accused of two counts.
Mr Pharo, 45, of Sandhurst, Berkshire; Pyatt, 51, of Windsor, Berkshire; Mr O'Driscoll, 38, also of Windsor; Edwards, 50, of Brentwood, Essex; Dudman, 51, also of Brentwood; and Troup, 49, of Saffron Walden, Essex, deny the charges against them.
The trial continues.