UK sets up three new Ebola Labs in Sierra Leone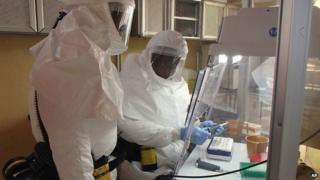 The UK is setting up three new laboratories in Sierra Leone to help test for the deadly Ebola virus.
The Government has pledged new funds of £20m to build, run and staff the labs, which will be used to test blood samples and swabs for the virus.
They will also be used to give the all-clear for Ebola patients who survive the disease.
The World Health Organisation says 4,922 people have died from the disease in the current outbreak.
The first laboratory opened in Kerry Town last week next to a UK-funded Ebola treatment centre, doubling the country's testing capacity.
Two more are being built at UK treatment centres in Port Loko and Makeni under the direction of UK Royal Engineers, Public Health England (PHE) and the Department for International Development (DFID).
'Best and brightest'
Once operational, the labs will quadruple the number of tests that can be conducted every day and reduce waiting times for results from five days to 24 hours.
International Development Secretary, Justine Greening said: "Tackling Ebola at the source is key to beating it and stopping the spread.
"Some of Britain's best and brightest scientists will be at the forefront of our UK-funded testing facilities ensuring that people with Ebola are isolated and then treated as soon as possible."
The Africa Governance Initiative (AGI) recently found that the Ebola virus is spreading nine times faster than it was two months ago in some rural parts of Sierra Leone.
The virus is also increasing in the capital, Freetown, which is recording six times more cases per day tan it was two months ago.
In Liberia, however, the rate of new cases appears to have slowed.
Ebola deaths
Figures up to 13 January 2016
11,315
Deaths - probable, confirmed and suspected
(Includes one in the US and six in Mali)
4,809 Liberia

3,955 Sierra Leone

2,536 Guinea

8 Nigeria
Getty
So far, the UK has dedicated a total of £225m to beating Ebola, including the provision of 700 Ebola treatment beds which will provide direct medical care for up to 8,800 patients over six months.
Around 50 volunteers from the NHS, PHE, universities and the Defence Science and Technology Laboratory will arrive in Sierra Leone in the coming weeks to form the lab technician team.
A further 800 Ministry of Defence personnel are expected to be deployed to the country to help with the establishment of Ebola treatment centres and an Ebola training academy.
Ebola scientist and ex-army doctor Tim Brooks, who has recently arrived in Sierra Leone, said: "These new labs will be crucial in helping us to separate the people who have Ebola from those who have malaria or other treatable diseases."