Asian family honours memory of RAF son killed in Afghanistan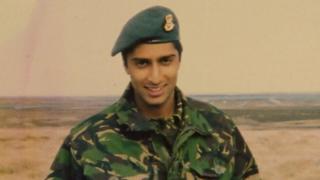 Earlier this year Flt Lt Rakesh Chauhan, 29, from Leicestershire, was killed along with four others when their helicopter came down in Afghanistan. His family has spoken to the BBC ahead of the Remembrance Day weekend.
Kishor Chauhan says his son Rakesh always honoured Remembrance Day and they will continue that without him because the RAF was his second family.
Flt Lt Chauhan was killed with four of his colleagues when a Lynx helicopter he was in crashed in Kandahar province.
The Ministry of Defence is still investigating the crash in April, but says it was an accident.
There are two emotions you can see on Mr Chauhan's face as he describes how proud he is of his son.
He says: "He always used to joke that 'You don't know what I'm doing and how difficult my job is.'"
His voice breaks with tears, but he continues: "But now we understand what he achieved, and how difficult it must have been for him."
This weekend is the first Remembrance Sunday the Chauhan family will mark without Rakesh.
Since his death the family has remained strong - holding a public funeral procession with full military honours through Leicester's Golden Mile and visiting the Tower of London poppy field with families of WW1 veterans.
Speaking to the BBC Asian Network, Mr Chauhan says the RAF was his son's surrogate family away from home.
"Whenever he was here on Remembrance Sunday, he would always watch, and we always wondered why. I think he watched it because that was his other family - the military - I think he was at one with them and honouring them on that day, I think he got it, he understood it," he says.
Mr Chauhan says some British Asians who do not have a connection to the military through their families "may find it a little difficult to understand what this whole thing is about", but he adds: "We do, we very much do."
Flt Lt Chauhan was an intelligence officer and committed to the RAF.
His father describes his journey into the military as surprising, but says he is extremely proud, adding: "His life was the RAF, that was his other family [and] he was dedicated to that family. He would have gone a long way in the RAF and I think would have achieved a lot more."
Posthumous awards
Flt Lt Chauhan has been honoured posthumously by a number of British Asian organisations.
In September he was honoured for his bravery by the Asian Achievers Awards, and on Wednesday night he won the GG2 Pride of Britain Award.
His father says his son's death has brought home to many Asians the dangers those in the military face.
"Because he was an Asian boy and reached the sort of positions that he did and the kind of job that he was doing, it has touched everybody," he says.
"A lot of Asians say, 'Why did you let him do this?' But it's what he wanted, he wanted this from a very young age, and it was something very different, an unusual career than generally what Asians have.
"I would have liked him to have [joined the family business], but he chose this path and I wouldn't stand in his way."
Mr Chauhan, 62, owns a successful Indian clothing business in Leicester's Belgrave Road, and the family are well respected among the city's business community and the British Asian community.
Mr Chauhan says it was because of the numerous requests of this community that the family decided to hold a public funeral cortege with full military honours.
He says: "It was our intention to keep it very simple, but a lot of people approached us and told us we want to be a part of this.
"It was very moving. Initially we were just going to have the cortege going through the Golden Mile, but then all the shops insisted that we slow down.
"Then they insisted that we have some of his friends walk by the cortege, and it just made us all really overwhelmed.
"I think this event was unique in Leicester."
His close-knit family has continued to learn more about Flt Lt Chauhan since his death.
UK troops in Afghanistan
£21.5bn
Total operational cost
453 UK troops killed

108 died in 2009 - the worst year

470 mentors staying on
MOD
His father says they were inundated by cards, flowers and well-wishes from friends and colleagues of Flt Lt Chauhan, and they have brought great comfort to the family.
But Mr Chauhan says his son's love of his job in Afghanistan is something that will stay with him.
"The nature of his job meant he didn't discuss the job itself, but he did discuss what the country was like and what the forces were doing there," he says.
"I know that he was doing a very, very useful job.
"This was his third deployment in Afghanistan and I think this was probably the one he really wanted to do and I know he was due to go out again," he says.
"The boys there were doing an extremely important job in keeping us and this country safe," he adds.
You can hear the interview with Kishor Chauhan on Asian Network Reports on the BBC Asian Network at 13:00 GMT and 17:00 GMT on Thursday 6 November.