Bereaved families let down by UK consular service, MPs say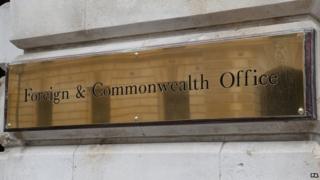 The consular service provided by the UK Foreign Office sometimes falls short of what the public "can legitimately expect", a report by MPs says.
Bereavement services - offered when Britons die abroad - had fallen "well below expected standards" at times, the Foreign Affairs Committee report says.
It said the Foreign Office had suffered budget cuts and more UK-based staff should be put in foreign positions.
The Foreign Office welcomed the report and said it was improving its service.
The Foreign Office will present a paper addressing the report to parliament in January, the spokesman said.
'Shorts and t-shirts'
The report assessed the UK consular service, which provides advice and assistance to British nationals travelling overseas, including bereavement services.
Some of those who had lost family members abroad accused the Foreign Office of poor communication, flippancy and indiscretion.
There have been "repeated failures of communication and compassion", the report found.
One person, who lost their partner in a plane crash in Nepal, told the committee: "The ambassador did not meet me... one of his juniors did. They arrived in shorts and T-shirt.
"They had not even been to visit the crash site. When I asked why not, they explained that it was because of 'staff cuts'."
Another bereaved relative, Julie Love, said families have been made to feel as if their loved one's death was "insignificant".
The report expressed concern that services offered to detained Britons abroad had been judged "uneven and minimalist".
It found "serious disquiet" about the Foreign Office's closure of consulates and withdrawal of routine visits from British nationals imprisoned in EU states.
MPs also said they were "gravely concerned" by allegations that consular officers had failed properly to respond to British nationals who claimed they had been tortured in foreign prisons.
Staff halved
Despite the issues, the committee said the Foreign Office's consular service provided "vital help to British nationals in distress".
But it said there was inexperience among some staff and said problems arose because of time constraints, competing priorities and a lack of training.
The report also acknowledged the Foreign Office had been badly hit by budget cuts.
The consular service had seen its staffing levels more than halved, with 90% of its overseas roles filled by local staff and European consular posts closed.
MPs said the Foreign Office should hire UK-based staff for at least 20% of consular positions and a central unit be set up to co-ordinate deaths of British nationals abroad.
A spokesman said the Foreign Office would "consider the recommendations carefully and respond fully in due course".
"Some of the issues that the committee has identified, including our response to tragic murders abroad, are areas that we are already working to improve and we will consider the points that they have made," the spokesman said.