Lib Dems elect Baroness Brinton as new party president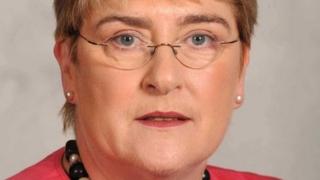 The Liberal Democrats have elected activist Baroness Brinton as the party's new president, following a ballot of its members.
She defeated Daisy Cooper by 10,188 votes to 6,138 after former MP Liz Lynne was eliminated following the count of first preference votes.
Lady Brinton will take over from Tim Farron in January.
Lib Dem leader Nick Clegg said she would be a "powerful advocate" for activists in a "crucial election year".
A former group leader on Cambridgeshire County Council, Lady Brinton is currently the Lib Dem health spokeswoman in the Lords.
Lady Brinton also runs the party's leadership programme, which supports candidates from under-represented groups, such as women and the disabled.
Lady Brinton said her first priority would be to move the party's campaigning ability into "top gear" in preparation for next year's general and local elections.
"My role will be to represent the members, and make the changes that they want happen," she added.
Mr Clegg said: "I look forward to working with her."