Churchill: Jeremy Paxman to host new BBC documentary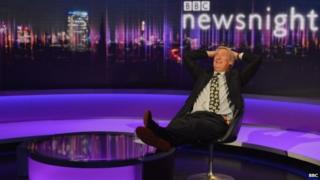 Jeremy Paxman has been confirmed as the host of a new BBC one-off documentary marking the 50th anniversary of Sir Winston Churchill's state funeral.
The broadcaster ended 25 years as Newsnight anchor in June; he still hosts University Challenge on the BBC.
Paxman has vivid memories of the 1965 funeral, which he says made a "huge impression" on him.
The hour-long BBC One documentary Churchill: The Nation's Farewell will be screened next month.
This will be Paxman's first new show since bowing out of his BBC Two news programme and will see him meeting a range of figures who were involved in the events of January 30, 1965 when the statesman was laid to rest.
For the documentary he will meet soldiers who acted as pallbearers, members of Churchill's family and a London docker who remembers some had misgivings about saluting the passing coffin by dipping their cranes.
Under more neutral circumstances than previous political interviews, Paxman will also meet Mayor of London Boris Johnson, author of a new book on Churchill.
"Like most people who saw it - I was a schoolboy at the time - Churchill's funeral made a huge impression on me," Paxman said.
"Fifty years on, I thought it was time to find out whether it was all that it seemed at the time. What was it that made Winston Churchill uniquely worthy of this spectacular send-off?"
Martin Davidson, the BBC's commissioning editor for history, said: "Sir Winston Churchill is one of our greatest statesmen and this fascinating documentary shines a light on not only that unique day, but on just what his passing meant to the nation he had steered through some of their darkest days."
Radio 4 will also mark the anniversary with updated repeats of Churchill's Other Lives in which Professor David Cannadine looks at various aspects of the former prime minister's story.
BBC Parliament will broadcast original footage of the funeral over a four-hour period in The State Funeral 50 Years On.
Introduced by Sir Nicholas Soames, the grandson of Sir Winston, the programme will air to mirror the original timings of his funeral in 1965 - on 30th January 2015 from 9.15am.
BBC Parliament is also collaborating with BBC Archives in the restoration of the original footage of Churchill's funeral for re-broadcast.
BBC Two Daytime will screen a 2002 documentary about his life - presented by the late Mo Mowlam - from the Great Britons series, as well as the 1972 biopic directed by Lord Attenborough, Young Winston.
Paxman will be back on our screens next year to front Channel 4's general election coverage.