Flights chaos: Transport Secretary faces MPs' questions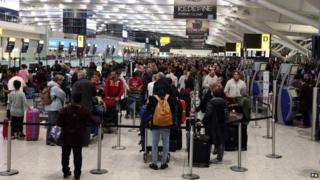 Transport Secretary Patrick McLoughlin is due to be questioned by MPs about why the UK's national air traffic control centre went down last week.
He will face the transport select committee on Monday, and has said the system failure was "unacceptable".
The problems caused widespread flight disruption and cancellations on Friday.
The transport secretary has also asked for a full explanation from the National Air Traffic Services (Nats) about what went wrong.
The BBC's political correspondent Robin Brant says Mr McLoughlin can expect to have a preliminary report from Nats on his desk by the time he appears before the committee of MPs.
Passengers faced widespread flight disruption on Friday because of the technical fault in a flight data system at the Nats control centre at Swanwick.
The failure caused problems at airports around the country - including at Heathrow and Gatwick, where departing flights were grounded for a time.
Heathrow Airport also cancelled about 40 flights on Saturday morning before normal services were resumed.
'Dreadful' disruption
The chief executive of Nats, Richard Deakin, said a single line of code in one computer system at the UK's national air traffic control centre had caused the problems.
But he warned updating some of its "elderly" systems posed a "challenge".
Mr Deakin told the BBC that the software problem was "buried" among millions of lines of computer code.
He said Nats was spending an extra £575 million over the next five years to bring its systems "up to date", but warned making improvements was a challenge as they had to be made "while the engine was still running".
Labour MP Paul Flynn has called for Mr Deakin to be docked bonuses in his salary because of the "dreadful" disruption.
It has emerged that Mr Deakin had his pay package increase by more than 45% this year, to more than £1m, due to the maturing of an incentive scheme.
Labour has called for ministers to "get a grip" and the Labour chairwoman of the transport select committee, Louise Ellman, said it was "vital that we establish what happened".
She said her committee would also call Nats and the Civil Aviation Authority to give evidence.