Ex-Sunday Mirror reporter Graham Johnson gets suspended jail sentence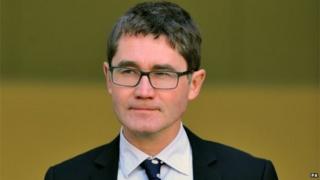 A former Sunday Mirror journalist who pleaded guilty to intercepting voicemail messages in 2001 has been given a suspended jail term.
The paper's former investigations editor, Graham Johnson, was sentenced to two months in jail, suspended for a year, by a judge at the Old Bailey.
The 46-year-old, who worked at the paper between 1997 and 2005, is the first Mirror Group Newspapers journalist to admit to phone hacking.
He also faces £300 prosecution costs.
And he has been ordered to complete 100 hours of unpaid community work.
Mr Johnson came forward in March 2013 after hacking a phone to investigate whether a soap star was having an affair with a gangster in autumn 2001.
He admitted listening to between 10 and 30 voicemail messages of the soap actress over an "intense but short" period of hacking lasting three to seven days.
The Old Bailey heard he was acting reluctantly under instruction from senior managers and although he did not know it was illegal, he realised it was wrong and "walked off the story".
Letter of apology
The journalist, from Greenwich, south-east London, was not under suspicion when he went to the Metropolitan Police voluntarily last year, after a number of journalists at the Sunday Mirror were arrested.
He has since sent a letter to the solicitors of the actress to apologise for listening to her phone messages and using that information for a story.
His lawyer Avtar Bhatoa argued that Johnson's case was "truly unique" because no other journalist sentenced for hacking had come forward.
He highlighted the example of former News of the World and Sunday Mirror journalist Dan Evans, who gave evidence in the hacking trial of Andy Coulson and was given a suspended prison sentence in July after he pleaded guilty to two charges of conspiring to hack phones.
Mr Bhatoa said: "Mr Evans only came clean after his collar was felt. Mr Johnson called the police himself and, unlike others, he never prevaricated."
'Serious'
Judge Brian Barker said the matter must have "weighed deeply" on Mr Johnson's conscience for some time.
But he said: "The public regard these sorts of offences - quite properly - very seriously."
"You are in a different category but the fact of the matter is you allowed yourself in 2001 to behave in this way.
"You could have refused but you did not. You involved yourself in an intense but short period of phone hacking. It is to your credit that you ceased fairly quickly and put that behind you."
Mr Johnson previously worked at the now defunct News of the World from 1995 to 1997 and has had work published by others including the Guardian and BBC Panorama.
He has also written eight non-fiction books and two novels.
In September, Trinity Mirror admitted for the first time that some of its journalists were involved in phone hacking.
Former England manager Sven Goran Eriksson, entertainer Shane Richie and actor Christopher Eccleston are among those to have received compensation from the newspaper group.
Trinity Mirror publishes titles including the Daily Mirror, Sunday Mirror and Sunday People.