Christmas holiday travel getaway starts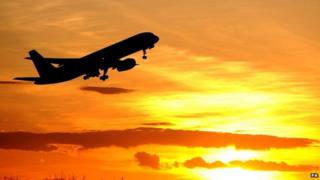 The UK's roads, railways and airports have been busy but largely trouble-free as the Christmas holiday getaway got under way on Friday.
Heathrow airport, which was expecting 116,000 departures, said things had gone smoothly and reported no problems.
The AA predicted that 10 million cars would be on the roads. Some roadworks will be suspended over Christmas.
The busiest days will be Saturday 27 and Sunday 28 December, according to travel association Abta.
Millions were expected to use the transport networks as schools broke up for the Christmas holiday and people began travelling home or flying abroad for the festive period.
However, a spokesman for Britain's busiest airport, Heathrow, said: "It has gone fine, on one of the busiest days of the year. We've got no information that there have been any problems."
Signalling problems
The Highways Agency said almost 400 miles of roadworks would either be completed by, or suspended for, the festive break by 0600 GMT on 23 December.
AA president Edmund King warned that the Christmas getaway would begin "with a particularly busy start".
He added: "This is because most schools break up today, Christmas shopping gets going in earnest and consumers have more money in their pocket because of low pump prices."
Travel expert Simon Calder said about 400,000 passengers would be flying out from UK airports to various destinations on Friday.
"It seems as though collectively we've decided we're all going to go on holiday," he said.
Figures from aviation analysts OAG suggested that, across all UK airports, Friday would be the busiest day for departures in the build up to Christmas.
Other potential travel difficulties over the period include:
More than 12 million cars would be on the roads from 24 to 26 December, according to predictions from the RAC
Gatwick expects its busiest day to be on Sunday when 64,000 passengers are expected to fly out of the airport
Signalling problems at Burgess Hill in West Sussex caused some delays for passengers travelling to Gatwick on Friday
Manchester airport was expecting to see its busiest day of December on Friday with 53,000 passengers flying out
Eurostar said it was expecting 480,000 passengers to use its services from 19 December until 4 January - a 5% rise over the same period last year
The Christmas getaway could also be disrupted by strike action set to take place by members of the Unite union.
A dispute over pay means that some airport staff - including baggage handlers - are set to strike on 23 December for two days at Heathrow, Gatwick and Manchester.
Routes disrupted
Although some roadworks will be suspended, they will remain in place throughout the festive period along various sections of the M1, including at Luton in Bedfordshire and Rugby in the West Midlands.
The M4 near Reading in Berkshire will also have roadworks as will the M5 near Gloucester and the M6 near Birmingham, the Highways Agency said.
Rail routes facing disruption over the wider festive period include the West Coast Main Line, where major work is being carried out at Watford and between Stafford and Crewe.
Saturday also marks the start of a 16-day part-closure of London Bridge station for work involving the £6.5bn Thameslink programme. Network Rail has stressed the need for the work to be carried out during a time when few commuters travel.