Charlie Hebdo: Could Paris attack happen in London?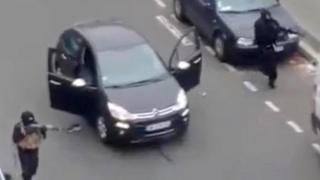 The UK has had more than its fair share of terrorism-related attacks down the years - from the IRA, through al-Qaeda to right-wing extremists such as Birmingham mosque bomber Pavlo Lapshyn.
So how prepared can a city be for something like the Paris attack on Charlie Hebdo?
During the Northern Ireland Troubles, planning for terrorism tended to focus on protecting people and infrastructure from bombs - and protecting police and soldiers from attacks.
Things are more complicated now.
The UK has experienced extremist incidents that relate to the underlying motives of the Paris attackers.
In 2007, four men were jailed for soliciting to murder after taking part in protests outside the Danish embassy in London against cartoons satirising the Prophet Muhammad.
Two years later, three other men were jailed for an arson attack at the home of a publisher days before his novel about the Prophet was due to be published.
These two attacks demonstrated how the threat from extremists can amount to many more things than attempting to detonate bombs on trains.
And ever since the 2008 Mumbai attacks - in which gunmen walked around the streets shooting indiscriminately - Western security agencies have poured a huge amount of effort into planning for that appalling possibility.
'Marauding gunmen'
Ten years on from the 7/7 attacks on the London Underground, many security officials in London are now more concerned about a solo or Mumbai-style incident.
That's why "marauding gunmen" exists in the official list of possible threats which police and other agencies must plan to deal with.
Many steps have been quietly taken down the last decade or so to prepare the UK for terrorism attacks.
Firstly, many buildings in London that are either critical to national infrastructure or of other public importance would be far harder to attack with a lorry bomb or similar device. Bollards and walls around these buildings - barely noticeable to the public - have been designed and installed to stop suicidal drivers.
Planning for a gunman is harder as one cannot encase a free city in steel. Officials are realistic that were such an attack to happen in the UK, it would be probably impossible to apprehend and stop such an individual in the opening moments.
But could they be stopped in the minutes or hours that followed?
The Mumbai attacks convinced Western security chiefs of the need to plan for a long and drawn-out incident - one that could possibly involve sieges and unpredictable events across an entire city.
Severe threat level
While the British police are not routinely armed, their colleagues in specialist firearms units are now trained to use a range of heavier and better weaponry designed to deal with situations that would include neutralising gunmen wearing armour or holed up in buildings.
Chief constables have devised plans with the Ministry of Defence which are designed to deliver swift Army support, should it be needed, to the scene of a crisis.
Beyond the police and Army, there is a thriving risk management industry in which consultants help organisations design security plans to protect their staff in the event of a major attack.
During Thursday's Cobra meeting, ministers and officials talked about steps to increase port security as a precautionary matter - particular at Calais and the Eurostar rail terminal at Gare du Nord in Paris.
So far there is no evidence that the Paris attackers have any links to the UK or that there is a specific threat to the country associated with the attacks.
But the reality is that the UK threat level, set by security officials in the Joint Terrorism Analysis Centre, is already at severe, meaning that an attack is believed to be likely.
The level can only go one notch higher to critical, which would mean that an attack is imminent.
Foiled plots
Police believe they have foiled a number of major plots, some of which are linked to IS in Syria and Iraq. Those cases are yet to come before the courts so the details remain unclear.
But beyond the immediate question of how to "target harden" a city, there is another issue that the UK government and others will be thinking very carefully about: how to prevent a backlash.
So while the Paris attack was very obviously carried out by jihadists inspired by the al-Qaeda ideology, Home Secretary Theresa May has been very careful today to emphasise that everyone in society should be working together to eradicate extremism "wherever it exists". She and others have rejected UKIP leader Nigel Farage's claim that Paris raised questions about a "gross policy of multiculturalism".
So could Paris happen in London? In the year of the tenth anniversary of the London suicide bombings that probably isn't really the right question to be asking yourself.