Prince Andrew defended by Sarah Ferguson on US TV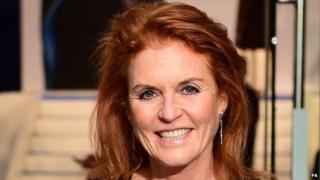 Prince Andrew's former wife Sarah Ferguson has said she cannot just stand by when "shockingly accusatory allegations" that he had sex with an underage teenager are being made.
Speaking on US TV, Ms Ferguson referred to Buckingham Palace's statement that the claims were "categorically untrue".
The prince was a "great father and humongously good man", she added.
It was the second time she had come to his defence since allegations in a US court case became public this month.
Ms Ferguson was asked about the claims when she appeared on NBC's morning television show Today to promote a weight-loss product.
"The great news is that Andrew and I and the girls are the best family unit there ever is and I know him extremely, extremely well," she said.
"And Buckingham Palace put out a denial two weeks ago or a week ago and we stand by that denial.
"Secondly and more importantly I won't stand by - because I know what it feels like to have salacious lies made up about you - and not support him so publicly because they are just shockingly accusatory allegations which I don't think is right.
"Its defamation of character and as a great father and a humongously good man and all the work he does for Britain I won't stand by and let him have his character defamed to this level."
---
Analysis
By Peter Hunt, royal correspondent, BBC News
Few public figures have chosen to declare their support for Prince Andrew as he faces claims of underage sex which he's denied.
David Cameron ducked an opportunity to endorse the Queen's son when it was offered to him.
The fifth in line to the throne has had to rely on London mayor Boris Johnson; an academic; and his ex-wife.
She's defended him twice. Once outside the luxury Swiss ski chalet the couple have bought for millions of pounds.
And now on American television during an interview in which she was promoting a food mixer and her diet website.
On both occasions she's been careful just to praise the man she divorced 19 years ago and to avoid commenting in detail.
In America, where her many personal battles have been sympathetically documented, her interventions are likely to be well received.
However, Sarah Ferguson remains a divisive figure in royal circles.
It's probably as well that in Sandringham, where Prince Philip's on holiday, the televisions aren't tuned into broadcasts from across the Atlantic.
---
The allegations against Prince Andrew emerged in evidence submitted to a US court in a civil case involving his former friend Jeffrey Epstein, who spent time in jail in 2008-9 for a sex offence with a minor.
When questioned whether she had asked Andrew if he had ever met the woman who claims to have had sex with him on three occasions between 1999 and 2002, Ms Ferguson said she would "not get into this subject as you need to ask him that".
"I, as his best friend and my best ex husband ever and the most wonderful father to the girls, will not be drawn on any subject," she said.
Buckingham Palace has issued two statements in response to media reports on the case.
"It is emphatically denied that the Duke of York had any form of sexual contact or relationship" with the woman, the palace said.
"The allegations made are false and without any foundation."
Last week, Ms Ferguson was asked about the case when she was in Switzerland, where she had been on a skiing trip with Prince Andrew and their youngest daughter, Princess Eugenie.
She told reporters: "He is the greatest man there is. It was the finest moment of my life in 1986 when I married him. He is a great man, the best man in the world."