Royal Family gift list includes Obama bear for George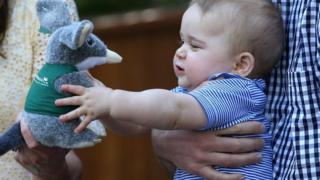 Prince George was sent more presents from round the world last year than any other UK royal, with a teddy bear from the US president among his 770 gifts.
Barack Obama presented the toy to the Duke and Duchess of Cambridge during their US visit in December. The couple themselves received books and honey.
The 18-month-old's gifts are among those detailed in lists released by Buckingham Palace and Clarence House.
The Queen's gifts included a model throne from the Game of Thrones series.
She was given the seven-inch (18cm) model during her visit to Northern Ireland, where the US series is filmed, in June.
The Queen also received presents including a bronze sculpture of a horse's head from the Emir of Qatar and a bristle brush boot scraper from Felsted School in Essex.
Possum skin cloak
The baby Prince George was given many hundreds of gifts during the year, including a leather flying jacket and a polo mallet.
The prince, who turned one last July, was given 774 gifts - including 603 presents from Australia alone.
The Gundungurra Tribal Council Aboriginal Corporation gave George a possum skin cloak and William and Catherine a decorated kangaroo skin and three paintings.
William and Catherine were also given presents including two models of the Empire State Building, a snow globe, and some chocolate coins on their US visit.
Mangoes
In May, Prince Charles received gifts including a Stetson hat from the Royal Canadian Mounted police, and in the autumn Camilla was given a snakeskin handbag on a visit to Mexico.
Mangoes were given to Prince Andrew by Pakistan dignitaries on two occasions as a gift to express best wishes.
Princess Anne also received boxes of the fruit.
In October, Prince Andrew was given a papier mache model of himself at Malet Lambert comprehensive school in Hull.
Hillary Clinton sent the duke a copy of her own book Hard Choices.
The details of the items and donors were revealed on Wednesday.
Royal protocol directs that gifts should not be of high monetary value. Official gifts are not the personal property of the Royal Family.
They can use them, and eat them in the case of mangoes, according to BBC royal correspondent Peter Hunt.