Typhoon fighter jets 'need collision warning system'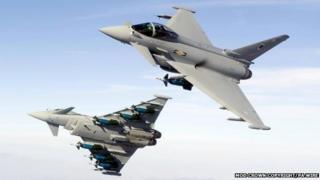 Typhoon fighter jets should be fitted with collision warning devices to avoid a "catastrophic" mid-air crash, military safety officials have warned the Ministry of Defence.
The Military Aviation Authority (MMA) said a crash between a Typhoon and a commercial jet was "improbable" but could cause "substantial loss of life".
Collision avoidance systems should be installed "with full haste", it said.
The MoD said it was assessing adding the equipment to its Typhoon fleet.
It follows a critical report last year by the military aviation watchdog into a mid-air collision between two RAF Tornado aircraft over the Moray Firth, Scotland.
'Unsustainable'
Three men were killed and another seriously injured in the incident in 2012.
Accident investigators concluded that the lack of a collision warning system onboard had contributed to the accident.
The air safety report published on Wednesday praised "good progress" by the MOD overall, but said failure to upgrade safety equipment on Typhoons was "unsustainable".
Director general Air Marshal Richard Garwood said: "If the MoD elects not to fit an ACAS (airborne collision avoidance system), the decision will need to be well documented and the risk held at the highest levels of defence."
An MoD spokesman said a collision avoidance system was in a "concept phase" on the Typhoon fleet, although funding for a complete system was "currently being assessed".