Charlie Hebdo attacks: Londoners queue for latest edition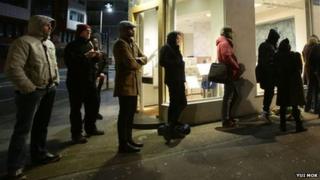 By dawn on Friday, a dozen people stood huddled outside a small French bookshop in London's leafy South Kensington.
They had been queuing since midnight to buy the first copies of Charlie Hebdo to go on UK sale since two gunmen stormed the magazine's Paris offices, killing 12 people, including eight of the magazine's staff.
Dubbed the "survivor issue", its front-page cartoon of the Prophet Muhammad is seen by some as a bold statement in defence of free speech but by many Muslims as highly offensive.
Third in line is German student Moritz Riewoldt.
He took the last train from Putney, south-west London, to arrive shortly after midnight.
"I'm here to show I stand against threats to freedom," he said.
"Being German, I carry our history with me. My parents were about 10 when the Holocaust happened.
"Where freedom of speech is curtailed, oppression starts."
By the time the Tube opens, the queue stretched around two corners - at a rough count about 200 people - as well as a large gaggle of journalists and several police officers.
At 08:15 sharp, the doors opened.
Moments later Moritz emerged holding his copy aloft to a volley of flashbulbs from the waiting media scrum. Many more follow.
Some had never bought Charlie Hebdo before - never even heard of it before the attack - but now felt strongly enough about what it represented that they had turned out in the early hours to queue.
"I personally and politically disagree with what Charlie Hebdo stands for," said Joachim Sabbat, 24, from Surbiton, south-west London.
"My politics are naturally right wing. But this is about defending a free society."
'Crazy numbers'
While most people in line said they wanted a copy of the magazine for its symbolic import, others had more prosaic motives.
"I won't lie, I have seen some crazy numbers on eBay," said 21-year-old Cory Dupuis, from north London.
"Of course what happened was tragic. But if I'm getting crazy numbers..."
Another man said simply: "If it's a good price, it's good business."
The numbers they talk about are bids exceeding £1,500 on the auction site on Wednesday.
But others expressed their disgust at the idea of making profit from the so-called "survivor issue".
"I think it's despicable to sell it for profit, unless they donate that money to charity," said 33-year-old Alan Smith.
"I think eBay should take the listings down."
Short supply
It took little more than an hour for the several hundred copies at the bookshop to sell out.
Many other shops who had ordered copies were left disappointed.
"I ordered a handful of copies after a request from a customer," said Philip Leach, who runs Backwell Post Office in Somerset.
"Last night it looked like we'd get them, but this morning we were told there aren't any.
"I'm very disappointed.
"From the comments on our newsagents' Facebook group, it doesn't look as if any independent newsagent received any copies of Charlie this morning."
Distributors have been notably reticent on the topic.
One, Smiths News, said 1,000 copies landed in the UK on Friday, of which it received 100. It would not comment on whether it would get any more.
Another distributor, Comag, would not comment at all - even to confirm whether or not they had received any copies.
They are perhaps understandably cagey.
It was reported on Friday that a number of book shops in Brussels had received threatening letters warning them not to sell Charlie Hebdo.
In Pakistan there have been violent protests against the magazine.
'Insulting images'
As many Muslims gathered for Friday prayers, reaction in the British Muslim community was mixed.
The Muslim Council of Britain held "unity" gatherings in London and Manchester, calling for a calm response.
Secretary general Dr Shuja Shafi said: "We're at risk of doing the very thing the terrorists want us to do - divide our society.
"Yes Muslims are no doubt hurt and offended by those depictions. But nothing offends us more than the insult, hurt and dishonour this attack has brought on our community and faith."
But others feel strongly that the magazine's front page, depicting a cartoon of the Prophet Muhammad, has crossed a line.
Mohammed Khan, a pharmacist from London who describes himself as a strict Muslim, said: "There's a difference between saying something which will offend somebody somewhere, and knowingly putting something on the front page which you know will offend people.
"Muslims need to make their voices heard and command respect for their values, within the remit of the law."