Channel Tunnel: Eurostar resumes after disruption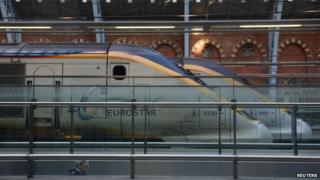 Cross-Channel rail firm Eurostar says it has resumed a full service after a weekend of delays and cancellations.
The Channel Tunnel was closed for most of Saturday due to a lorry fire and shut again on Sunday morning after an unrelated electrical fault.
Eurostar said its trains could be delayed by up to 60 minutes as only one of the two tunnels is fully open.
The Channel Tunnel is not likely to be fully operational until Tuesday, Eurotunnel confirmed.
Trains were departing and arriving from London St Pancras station on Monday morning but most services were delayed by at least 20 minutes.
Services in and out of Paris were also briefly disrupted on Monday after reports of a fire beside the track in the suburb of St Denis, but the problem has since been dealt with, and no trains were cancelled.
Tunnel operator, Eurotunnel - which carries car and lorries on its Le Shuttle trains - has told travellers to expect delays of about 90 minutes at Folkestone. Trains from Calais would be operating to schedule.
Eurostar said Eurotunnel was planning engineering work on Sunday night to put "more sections of the tunnel back into service".
"As Eurotunnel will not be completely operational, Eurostar services may be subject to delays," a spokesman added.
Eurotunnel said it was "optimistic" it would regain use of part of the north tunnel, where the fire broke out, and would "operate a more regular timetable" on Monday.
Six Eurostar services from London's St Pancras were cancelled on Sunday, as well as two from Paris and three from Brussels. Some passengers also faced long delays on services that did run.
Eurotunnel said a load on a lorry being carried by one of its trains from the UK to France had been "smouldering" and triggered two CO2 detectors in one tunnel at 11:25 GMT on Saturday.
About 12,000 passengers were affected when the tunnel was closed for most of Saturday, causing Eurostar to cancel 26 of its trains.
Eurotunnel's services had started running in the early hours of Sunday morning following the closure, after "residue smoke" was cleared from a tunnel.
Eurostar passenger trains had started moving through the tunnel again at about 11:30 GMT on Sunday, but at a reduced speed as only the south tunnel was open.
However, there were further problems when the power supply fault meant the temporary closure again of the south tunnel.
Eurostar passengers are able to either exchange their tickets or get a refund.
However, Eurostar apologised to passengers after some took to Twitter to complain of long waits on the telephone booking system they were told to use.
Eurostar's customer care number is 03432 186 186, or +44 1777 777 878 for people outside the UK.
Eurotunnel's information line is +44 8444 63 00 00.