Child abuse inquiry struggles to get off ground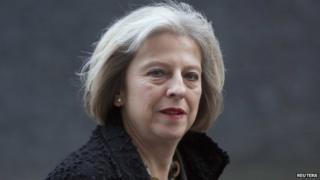 The inquiry into historical child abuse is likely to be the longest and most complex ever.
But right from the start there have been arguments about who should take on the task of delving into Britain's darkest secrets, and how they should go about it.
When on 7 July 2014, Theresa May announced there would be a public inquiry into child abuse, she may have been excused for thinking an important item had been ticked off the governmental to-do list.
She had little alternative.
Since the Jimmy Savile scandal it has been clear that many men and women abused as children are no longer prepared to endure the silence that has hung over this issue for decades.
After all, they are in their 30s, 40s and beyond, and still enduring the effects of that abuse.
I have met people crippled by sleepless nights, or the inability to trust or to be intimate.
Men and women uncomfortable in crowded places, suspicious of those in authority and terrified their abusers may yet track them down.
For them, there seems to be no end.
So Mrs May's statement that the inquiry would examine whether institutions including the justice system, schools, the church, NHS and BBC had taken seriously their duty of care towards children, was welcomed.
Immediate problems
But almost immediately it started to go wrong.
Two chairwomen were appointed, attacked and stepped down in a matter of weeks.
The concerns about the impartiality of Baroness Elizabeth Butler-Sloss, and Fiona Woolf have been well documented, as has the challenge the government faces in finding another person to chair the inquiry.
Now there is a wider and more emotional debate going on about the abuse inquiry.
It is taking place within what has become what former chairwoman Fiona Woolf once dangerously called "the victim community".
Dangerously, because her choice of words provoked fury.
She appeared to be making the assumption that "victims" of child abuse all had roughly the same views and you could consult this community and be sure you knew what they wanted.
But some are women, some are men. Some have been abused by figures in the church. Some by their teachers.
Some claim their abusers are or were pillars of British society, others, the guy next door.
Most commonly a family member has played a significant part, but not always.
Victim label rejected
There is a growing consensus that they don't want to be called "victims".
They want to be known as "survivors", a demand which notably BBC Radio 4 Today presenter John Humphrys admitted posed him "difficulty".
Survivors of what? It is an understandable question from those wary of the English language being manipulated.
The answer is this: survivors of the inevitably high suicide rate among those abused.
Survivors of depression and the difficulty of holding down a job or a family life.
After all the dictionary definition does allow its use for people who "cope well with difficulties in their life".
So, victims? Not so much. A community? Well maybe.
Political movement
Like America's Vietnam veterans in the late 1960s, Britain's survivors of abuse are starting to resemble a fledgling political movement, small 'p'.
They draw strength from jointly addressing the physical and emotional harm they have suffered.
Yet there is considerable disagreement among them.
They have varying expectations of what the coming public inquiry will achieve.
These vary from simply wanting to tell their story, to obtaining public justice - the naming of the guilty men.
Others stress their need for the inquiry to uncover the cover-up.
A significant concern among survivors is that the inquiry will "learn lessons" and produce well-meaning reports with recommendations for action, but won't exorcise the ghosts of the past.
Concern over experts
The biggest specific disagreements surround the panel of experts appointed to advise the inquiry.
One member, a former director of the National Children's Bureau, Barbara Hearn was suggested as a candidate by the MP Tom Watson.
Watson is credited with raising the profile of childhood abuse with a landmark commons statement in 2012 - but abuse survivors want as little political involvement as possible.
Politicians, though not Mr Watson, have been named as abusers.
There are other criticisms - particularly about the actions of panel members in the past.
One survivor says emails one member sent him were threatening, causing him distress. He has made a complaint through his solicitors.
Yet others who have been abused have attended meetings with the panel and, for the first time, felt their life-stories were being heard.
They are campaigning for it to be retained, and the inquiry be allowed to get on with its work.
As ever, Twitter is where the disagreements often play out, blunt comments causing upset on each side.
Why is this happening? Well, there is a lot at stake.
Emotional time
Survivors active in the debate feel that now is their chance to get to grips with what has happened to them - and for the country to get the undoubted horror of historical abuse into the open.
Emotions are raw.
But when it comes to the composition of the inquiry panel, the friction partly results from the way the panel was picked.
There was no consultation and little transparency.
The Home Office was forced to publish letters from the panel members about potential conflicts of interest after complaints on social media.
It is now highly likely that around the end of the month Home Secretary Theresa May will scrap the lot and start again.
In the absence of widely accepted representative bodies, some abuse survivors have been given direct access to give her their views in person.
There does now appear to be a desire for the process to be more open.
Trust is vital
Most of all there is the realisation that if abuse survivors don't have trust in the process, the process is worthless.
But there can be no doubt that this inquiry will take years.
It can't hope to please everyone or shed light into all the dark corners.
It is also likely the guilty men will not be named in front of the public's gaze. Instead major police investigations are underway that may lead to arrests.
The media is also now pursuing alleged abusers.
This includes the BBC which has a number of journalists investigating allegations of serious abuse, including among people at high levels of society.
There is unlikely to be a single day in the future when all this will come to an end, with all the questions answered.
Britain's contemplation of the harm done to children in the past, will be an ongoing process.