NHS strike talks to resume on Friday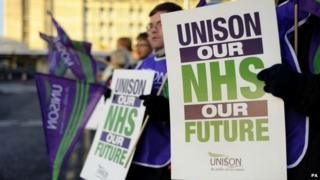 Talks aimed at averting strikes by NHS staff in England will resume on Friday after being adjourned on Wednesday evening, unions have said.
Union leaders met Health Secretary Jeremy Hunt for a second time to try to resolve the pay dispute.
Industrial action remains on for 29 January, as unions criticise ministers for not accepting a recommended 1% pay rise for all NHS staff.
Unison's Christina McAnea said unions were willing to continue with talks.
But she added: "The industrial action planned for next week will go ahead unless a fair pay deal for NHS workers can be reached."
Ahead of Wednesday's meeting, Mr Hunt said: "The public will find it hard to understand why unions are taking this action when services are under pressure."
Several NHS walkouts were staged across the country last year.