Gary Glitter trial: Girl 'given champagne before assault'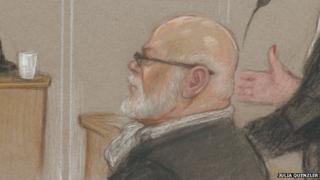 Singer Gary Glitter gave a 12-year-old girl champagne after a concert before inviting her to a hotel and having sex with her, a jury has heard.
The alleged victim told Southwark Crown Court the assault happened in Leicester in 1977 after one of his performances.
The woman, now aged 50, claims a similar incident took place in Birmingham when she was 13 years old.
The 70-year-old former glam rock star - whose real name is Paul Gadd - denies 10 charges relating to three girls.
The woman told the court she went to the concert with her mother, who was a bigger fan of the star than her. They were both were invited to Mr Gadd's dressing room and he suggested they return the following evening.
Describing the next day's events, the woman told the court: "We had gold jackets and he signed his autograph on the jackets.
"I had a few glasses of champagne.... he said to my mum it was quite busy but if we wanted to go back to the hotel with him, we could chat more."
At his hotel suite, her mother appeared to be getting drunk and was persuaded to leave her alone with the singer, she added.
'Hair phobia'
She said after her mother left with a man, Mr Gadd picked up a bottle of champagne and led her to a bedroom.
Jurors were told he tried to kiss the girl, prompting her to lift her hands to his head to push him away.
She said the singer became angry, saying "he has got a phobia about people touching his hair".
The woman alleged Mr Gadd told her to undress, before pushing her on to the bed.
"My mum is gone, I don't know what she wants me to do," she told the jury.
"She really loved this guy, so I am thinking I can't upset her. I was trying to be really grown up because I had been drinking and I had been smoking."
Her mother came to collect her the next morning, she said.
She told the court: "She stepped out of the room again and he [Mr Gadd] grabbed my hand, bought me over to him, gave me a kiss. Then he said 'You are a really clever girl, you got dressed before your mum came in."
The jury heard the woman did not report the matter to police until 2013, a year after her mother's death.
"I couldn't talk about it with my mum, and I knew deep down she knew - over the years, I know she did," she said.
In cross examination, the woman agreed she had financial difficulties but denied inventing the accusations to gain compensation.
Public image
Defence barrister Sallie Bennett-Jenkins QC also challenged photographs the woman had produced to the court showing her and her mother with Mr Gadd backstage.
Ms Bennett-Jenkins suggested the pictures must have been taken before the singer performed.
She said Mr Gadd did not use showers backstage "because, at that time, it was not known that he had lost his hair - he was pretty bald. And to have disclosed that would be to damage his public image."
She added: "After the show, hot and sweaty, he would always get out of the club quickly, to go and repair the wigs that he wore."
The other charges Mr Gadd, from Marylebone, central London, faces relating to the woman are unlawful intercourse with a girl aged under 13, and four counts of indecent assault. One count alleges he plied the girl with alcohol with the intention to "stupefy or overpower" her to have sex.
He is also accused of two counts of indecent assault of a 13-year-old fan. She is said to have been assaulted in his dressing room after a concert in Watford between 1979 and 1980.
Two allegations relate to a woman who told the court she was under 10 years old when the glam rock star climbed into her bed and tried to rape her in the mid-1970s.