More military assets to be sold, says defence secretary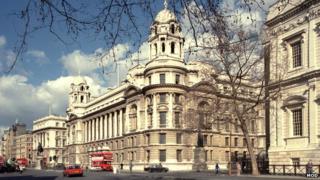 The Ministry of Defence will have to sell off more military land and assets to make savings in the coming years, the defence secretary has warned.
In a speech on Wednesday, Michael Fallon said his department's finances were in better shape than they had been but savings still needed to be made.
He said the emphasis should be on supporting front-line troops by selling off more of the MoD's large estate.
Sales by the MoD of land and property have realised £380m in recent years.
These include polo fields, country houses, and the Old War Office in Whitehall, which is now owned by property developers.
Another World War Two command centre, the former Brompton Road Tube station taken over by the MoD after its closure in 1934, was sold last year for £53m.
In his address to independent think tank, the Institute for Government, Mr Fallon claimed that the coalition government had managed to balance the MoD's budget after inheriting a "chaotic legacy with a £38bn budget black hole".
BBC defence correspondent Jonathan Beale said it was not clear whether Mr Fallon had already identified sites that would be put on the market.
"The job's far from over," Mr Fallon said. "Now we need to ask more questions about our assets... how many airfields do we need, how many cars and vehicles do we need, and how do we go further in rationalising our defence estate?"
The defence secretary also highlighted examples of equipment disposals such as last September's sale of 123 surplus armoured reconnaissance vehicles to the Latvian Army for £39.4m.
He questioned the need for the MoD to have 57 separate sites within the M25 and asked: "And does the MOD really need to own 15 golf courses?"
He also stressed that while the coalition had "shaken up the system", it had still met Nato's target of ensuring defence spending was equal to 2% of GDP.
Shadow defence secretary Vernon Coaker said: "We welcome moves to release assets to generate maximum capabilities for the UK's armed forces.
"But ministers have repeatedly missed their own targets on estate disposal over the course of this Parliament.
"The public will rightly question why it has taken the government so long to give this area the proper attention it deserves."