Haroon Aswat's extradition to US legal, judges rule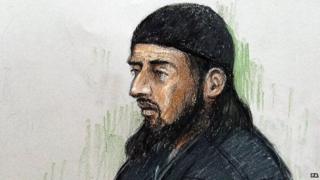 The extradition of British terror suspect Haroon Aswat to the United States was lawful, European Court of Human Rights judges have ruled.
Mr Aswat from Batley, West Yorkshire, is accused of conspiring with Abu Hamza al-Masri to establish a terrorist training camp in the state of Oregon.
He was extradited in October last year to stand trial.
The move had previously been blocked because of his mental health but was eventually approved by the High Court.
Mr Aswat, 40, argued the decision to extradite him was based on inadequate assurances from US officials about his treatment.
He said that breached Article 3 of the European Convention on Human Rights, which prohibits inhuman or degrading treatment.
But the judges said the case was "manifestly ill-founded".
Legal fight
In their written ruling, they said: "In light of the specific assurances and additional information received from the United States government, and the careful examination of the case by the High Court in the United Kingdom, the court found that it could not be said that there was a real risk that Mr Aswat would be subjected to treatment contrary to Article 3 if extradited."
Mr Aswat, who denies involvement in terrorism, was arrested in 2005 at the request of authorities in the US.
He was transferred from prison to Broadmoor psychiatric hospital in 2008 with paranoid schizophrenia.
In September 2013, the European Court of Human Rights ruled he could not be extradited as his mental health could deteriorate.
However, in September 2014 two High Court judges said they were satisfied he would receive satisfactory care in the US.
Abu Hamza was extradited from Britain to the US nearly two years ago and found guilty of terrorism charges in May last year. He was sentenced to life in prison in January.