Gary Glitter trial: Jurors told to 'grasp the nettle'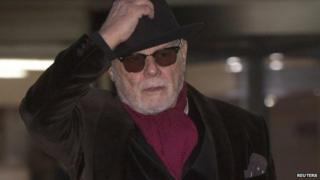 Jurors in the trial of Gary Glitter have been told to "grasp the nettle" and decide whether the alleged victims are telling the truth, a court has heard.
Prosecuting, John Price QC said the case against the 70-year-old came down to "basic truthfulness".
One woman claims she was aged under 10 when the then singer tried to rape her.
Mr Glitter denies 10 charges relating to alleged sex offences against three girls from 1975 to 1980.
Mr Price used his closing speech to remind jurors that although it had taken two of the three women 35 to 40 years to come forward, they had in the past confided in loved ones about their alleged ordeals.
'Nettle to grasp'
"What is the single main issue which lies at the heart of this trial? And it is not about the accuracy or reliability or memory. It is about basic truthfulness," he told Southwark Crown Court.
The former glam rock star - who is being tried under his real name of Paul Gadd - is also accused of inviting a 12-year-old girl into his hotel suite and plying her with champagne before having sex with her.
He is also accused of having invited a 13-year-old into his dressing room at Watford club Baileys, where it is claimed he forcefully kissed her before sliding his hand up her skirt between October 1979 and December 1980.
Mr Price added: "It is not about whether a witness, whoever they may be, is correct in everything they say. It is about whether they are honestly trying to be correct about what they say.
"Ultimately there is a nettle that you have to grasp, there is a choice or decision you are going to have to make, which simply cannot be fudged."
He reminded jurors that as a youngster the first complainant had told her friends about what the former singer had allegedly done to her, and then told the police after he was arrested for being in possession of child pornography images in 1998.
Mr Price added that the other two alleged victims had also told people, including their counsellors, about their experiences before going to the police.
The accused from Marylebone, central London, denies one count of attempted rape, seven counts of indecent assault and two other sexual offences.
The case continues.