Gary Glitter trial: Jury should 'not be afraid to be doubtful'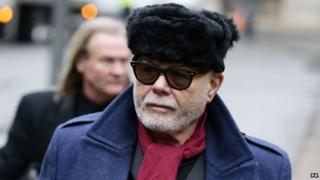 Jurors in the historical child sex abuse trial of Gary Glitter have been asked to consider the case as if it was their relative in the dock.
Defending, Sallie Bennett-Jenkins QC warned jurors not to be "afraid of being doubtful" and to avoid accepting evidence "willy-nilly".
She said the 70-year-old had faced "ridicule" by giving evidence.
Mr Glitter - real name Paul Gadd - denies 10 charges relating to alleged sex offences against three girls.
The alleged offences are said to have taken place between 1975 to 1980.
Giving her closing speech to Southwark Crown Court, Ms Bennett-Jenkins said: "Please, do not be afraid of being doubtful. It is not a failing on your behalf, it is simply an honest appraisal of where the evidence has taken you and left you, which is in doubt.
"Do you accept things at face value, willy nilly? Of course not. You don't do that in your daily lives. You employ analysis to very large decisions you make in your life. You don't just accept what you are told.
"Approach this case as though the man sitting in the dock was one of your own family," Ms Bennett-Jenkins told the jury of seven women and five men.
'Your own family'
One woman claims she was aged under 10 when the then singer tried to rape her in 1975.
The former glam rock star is also accused of inviting a 12-year-old girl into his hotel suite and plying her with champagne before having sex with her.
Another woman claims he invited her into his dressing room at Watford club Baileys when she was 13 years old - where it is alleged he forcefully kissed her and slid his hand up her skirt between October 1979 and December 1980.
Mr Gadd from Marylebone, central London, denies one count of attempted rape, seven counts of indecent assault and two other sexual offences.
Judge Alistair McCreath is due to finish summing up all the evidence on Wednesday.