Justice Lowell Goddard will 'enhance' child abuse inquiry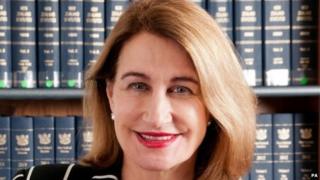 Campaigners for a child abuse inquiry have welcomed the appointment of New Zealand judge Justice Lowell Goddard as chairwoman of the independent panel.
Labour MP Simon Danczuk, who led calls for an inquiry, told the BBC the appointment was "right this time".
Peter Saunders, a spokesman for one victims' group, said Justice Goddard would "enhance the whole credibility of the inquiry".
Two chairwomen have resigned amid concerns over links with the establishment since July.
Making the announcement in the Commons, Home Secretary Theresa May said Justice Goddard would bring a "wealth of expertise" to the role and was "as removed as possible" from individuals and groups that may be implicated in the inquiry.
The home secretary told MPs she would dissolve the existing panel and set up a new one with powers to compel witnesses to give evidence.
Shadow home secretary Yvette Cooper wished the new chairwoman well, but warned: "We cannot afford for the home secretary to fail on this again."
"She will know better than anyone that this inquiry has gone wrong too many times already and that we still need assurance that the measures will be in place to protect children today," Ms Cooper went on to say.
'Challenging and complex'
The Auckland-born judge, who was appointed to the New Zealand High Court in 1995, said she was "committed to leading a robust and independent inquiry" but but acknowledged the inquiry would be "long, challenging and complex".
Mr Danczuk, a backbencher who has been a prominent campaigner for a child abuse inquiry, told BBC Radio 4's World at One: "I'm quietly confident that the home secretary and the Home Office have got it right this time."
Mr Saunders, from the National Association for People Abused in Childhood, said Justice Goddard's distance from the UK establishment would give the inquiry more credibility.
He said: "It was a shambles but I think with a lot of hard work, the Home Secretary and her team at the Home Office, have got this right and I'm looking forward to meeting Justice Goddard when she arrives at our shores quite soon."
Alison Millar, from the law firm Leigh Day, which is representing many of the victims, said: "Clearly a lot of thought has gone into the choice of chairperson and it is a brave step by the Home Secretary to appoint a non-UK based judge."
She also welcomed the decision to put the inquiry on a statutory footing.
Peter McKelvie, a former child protection manager, said it was "a very positive day for survivors".
But he added that the inquiry may take years and it was important that the "truth comes out now".
'New opportunity'
Mrs May explained in her statement that Ben Emmerson QC would continue as legal counsel to the panel.
Mr Emmerson paid tribute to the new chair as "one of the most respected and experienced judges in the Commonwealth".
He added that he had reviewed the selection and due diligence processes used by the Home Office, which he found "were carried out in unprecedented depth and detail".
Children's charities have also reacted positively, with Children's Society chief executive Matthew Reed hailing it as "a fresh start and a new opportunity that absolutely must not be wasted".
Peter Wanless, chief executive of the NSPCC, said: "It's good that a new chair has now been appointed and Justice Lowell Goddard must now press on with the inquiry and do all she can to instil the confidence that will enable those abused as children to speak out.
"If people have relevant information about crimes committed against children I would urge them to come forward. There are active police investigations underway now."
Justice Lowell Goddard was appointed deputy solicitor-general for New Zealand in 1992.
In 2007, she was appointed chairwoman of the Independent Police Conduct Authority, the first New Zealand woman to hold the position.
'Duty of care'
While she was in that role, she oversaw the publication of a report on the outcome of the IPCA's inquiry into police handling of child abuse cases in New Zealand.
The inquiry, sparked by claims of paedophiles operating in Westminster in the 1980s, will investigate whether "public bodies and other non-state institutions have taken seriously their duty of care to protect children from sexual abuse in England and Wales".
The first person appointed to lead the inquiry - Baroness Butler-Sloss - stepped down in July after concerns were raised about the fact that her late brother was attorney general during the 1980s.
Her replacement, Fiona Woolf, stepped down three months later, following objections from victims' groups about her social links with former Home Secretary Lord Brittan.