Gary Glitter child sex abuse trial jury begins deliberating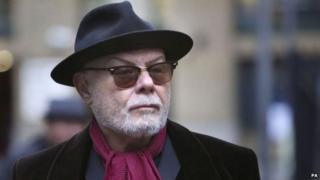 The jury trying former glam rock singer Gary Glitter on historic child sex abuse charges has retired to consider its verdicts.
Mr Glitter, 70, whose real name is Paul Gadd, denies one count of attempted rape, seven counts of indecent assault and two other sexual offences.
The alleged offences are said to have taken place between 1975 and 1980.
The jury was told not to use Mr Gadd's previous child pornography convictions against him.
'Sense of revulsion'
After the two-week trial, the jury of seven women and five men at Southwark Crown Court in south London were reminded to keep in mind all of the evidence before them.
Referring to Mr Gadd's 1999 child pornography convictions, Judge Alistair McCreath said: "Don't let your natural sense of revulsion about such material allow you to use it against Mr Gadd in a way that is prejudicial or unfair."
One woman claims she was under the age of 10 when the then-singer tried to rape her in 1975.
Mr Gadd, of Marylebone, central London, is also accused of inviting a 12-year-old girl into his hotel suite and plying her with champagne before having sex with her.
Another woman claims he invited her into his dressing room at a nightclub in Watford when she was 13 and forcefully kissed her and slid his hand up her skirt between October 1979 and December 1980.
Mr Gadd was the first person to be arrested as part of Operation Yewtree.