Judge 'must back' police access to journalists' sources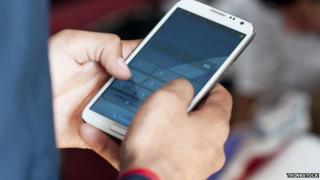 Police will need a judge's permission to access journalists' phone records, the government has said.
Home Secretary Theresa May said she accepted "in full" the recommendations of an official review into the Regulation of Investigatory Powers Act.
Sir Anthony May, the interception of communications commissioner, found current powers do not adequately protect journalistic sources.
The home secretary added that "a free press" was essential.
The review of the use of the Regulation of Investigatory Powers Act (Ripa) surveillance powers was launched in October.
That followed concerns raised about incidents such as Scotland Yard accessing the phone records of Sun reporter Tom Newton Dunn to find who had leaked information on the so-called Plebgate row.
'No random trawling'
It found that 19 police forces looked for information in relation to 34 investigations into illicit dealings between public officials and journalists.
Over 600 applications for communications data were authorised by a ranking officer.
But the report stressed that was just 0.1% of the total applications authorised by police under the legislation.
The report concluded that police had not used Ripa to circumvent other legislation and forces were not "randomly trawling communications data relating to journalists in order to identify their sources".
Police will now be forced to seek the permission of a judge if they want to retrieve the phone and email records of journalists.
'Judicial transparency'
Home Secretary Theresa May said: "Communications data is a critical tool used by police and other agencies to investigate crime, safeguard national security and protect the public, and safeguards exist to ensure powers are not abused.
"However a free press is fundamental to a free society and the government is determined that nothing is done that puts that at risk."
National Union of Journalists general secretary Michelle Stanistreet welcomed the decision.
She said: "Secret data grabs by police have denied journalists the ability to stand up and protect their sources, and judicial transparency will prevent this happening in future.
"The level of snooping on journalists with a view to outing their sources is shocking, and the real casualties are the whistleblowers who will be deterred from speaking out as a consequence and the public interest."