Archer family accept 'substantial' phone hacking damages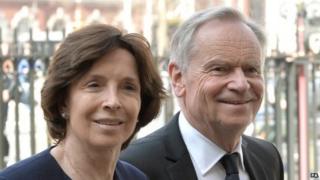 Jeffrey Archer and his family have accepted "substantial" damages after settling their phone-hacking claims against News Group Newspapers (NGN).
Mr Archer, his wife Mary and son James also received an unqualified apology and legal costs.
Hugh Tomlinson QC said the claim was for misuse of private information, breach of confidence and harassment.
Mr Tomlinson said Lord Archer had been of "long term interest" to NGN and its now-defunct paper News of the World.
The court heard Lord Archer had been in numerous articles in News Of The World over many years and his wife and son had been of interest as sources of information about him.
'Shocked and distressed'
Mr Tomlinson said NGN had sought to obtain private information about the family by using the services of private investigators.
They were "shocked and distressed" when officers from Operation Weeting told them private and confidential information relating to them had been found in documents from the police investigation into phone hacking at the News of the World, Mr Tomlinson said.
He added that NGN had undertaken to the court not to access their voicemail messages, attempt to access their private information by unlawful means or knowingly publish information obtained by unlawfully accessing their voicemail messages.
Antony White QC, for NGN, said the company offered its "sincere apologies" for the damage and distress caused.
"The defendant acknowledges that the information should never have been obtained in the manner it was and that the defendant is liable for misuse of private information and breach of confidence," he said.