Alexander Litvinenko 'wanted world to see impact of illness'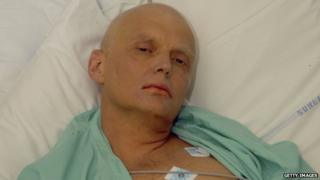 Alexander Litvinenko asked for his picture to be taken on his sick-bed because "he wanted the world to know what had been done to him", a PR chief has told a court.
Lord Bell set up the picture of the former Russian spy propped up in his bed, bald and wearing a green gown.
He told the inquiry into Mr Litvinenko's death he offered to help the family with media interest.
Mr Litvinenko died after drinking tea laced with polonium in November 2006.
Two men - former KGB bodyguard turned politician Andrei Lugovoi and Dmitri Kovtun - were named as the main suspects in 2007. Both deny any involvement and remain in Russia.
Giving evidence at the Royal Courts of Justice, Lord Bell said he first worked with Mr Litvinenko in 2002 to set up a press conference to launch a documentary about the Russian bombings in 1999 in which almost 300 people died.
Lord Bell, chairman of PR firm Bell Pottinger, then offered to help the family deal with media requests after Mr Litvinenko, whom he knew as Sasha, fell ill.
He told the inquiry: "Sasha asked for the photo to be taken because he wanted the world to know what had been done to him."
'State of mind'
Earlier, Mr Litvinenko's solicitor, George Menzies, said he drafted a statement from the former spy, which was released after he died.
He rejected claims he had subsequently sought distance himself from the statement.
"The statement represented my understanding of Sasha's state of mind on a number of issues covered in the statement," Mr Menzies told the inquiry.
"I was doing my best in personal terms to represent what I truly believed to be Sasha's state of mind. He may not have used or did not use language that one can trace to the statement but the sentiment completely reflects his state of mind on all the issues covered there.
"His pride in being a British subject, his love of his wife and his belief as to the source of his illness and imminent demise."
The inquiry resumes on Monday.