Family 'pleaded with Syria fighter son to come home'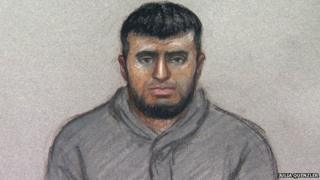 The family of a British man who fled London to fight in Syria pleaded with him to come home, a court has heard.
Imran Khawaja, 27, faked his death and tried to return to the UK undetected but was arrested as he arrived at Dover and last week admitted terror offences.
Woolwich Crown Court was shown messages from his mother and sister begging: "Book your ticket and get home or I'll come and get you."
The court saw a video of Khawaja posing with severed heads in Syria.
The former Serco immigration detention centre guard has admitted preparing for acts of terrorism, attending a camp, receiving training and possessing firearms.
'Contemptuous'
During the sentencing hearing, the court was shown part of a video in which he lifted up a severed head from the back of a flatbed truck for the camera.
Prosecutor Brian Altman QC said Khawaja's attitude was "clearly contemptuous", adding: "There is no sign of compulsion or revulsion".
The court also saw dozens of images of him posing with automatic weapons and tanks.
Mr Altman said Khawaja had repeatedly lied to his family about when he was coming home before eventually telling them he was in Syria to die as a martyr.
Khawaja, who joined the propaganda group Rayat Al Tawheed, which has close ties to jihadist group Islamic State, also sent his sister a screenshot of a dead fighter.
Mr Altman told the court Khawaja's sister, Azmeena, "berated her brother for deserting his family".
'Fake death'
In texts read to the court, she said: "I don't know how you can continue without hearing the voice of your mum and dad."
She had also received a text message from her brother in which he said she should tell his family he was doing charity work in Syria, "driving an ambulance".
The court was also told social media postings about his apparent death "provided cover for Khawaja's return into the UK" after a fake announcement was made on Instagram.
A cousin - Tahir Bhatti, 44, from Watford in Hertfordshire - drove to Serbia to collect him but the men were arrested at Dover as they drove off the ferry in a hire car.
In a letter to Mr Justice Baker, Khawaja apologised to his family, his country and his community. He also warned others in the letter, saying: "I would hate to see the youth, the young men of Britain, make the same mistake I did.
"Do not get attracted by the propaganda they see."
Bhatti has pleaded guilty to assisting an offender. Another man, Asim Ali, pleaded guilty to entering into a funding arrangement for the purposes of terrorism.
The 33-year-old from Ealing, west London, admitted making £300 available to Khawaja while knowing, or having reason to suspect, it might be used for the purposes of terrorism.
All three men will be sentenced on Friday.