Alexander Litvinenko: The secrets begin to emerge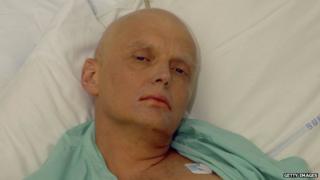 Eight years on, new details surrounding the life and death of Alexander Litvinenko continue to emerge from the public inquiry now under way. These include intriguing details of his relationship with the Secret Intelligence Service MI6.
On his deathbed Alexander Litvinenko recorded a series of taped interviews with police which are being released as part of the inquiry.
At one point, the police officer interviewing Litvinenko asks whom the Russian met the day before he fell ill. Litvinenko says there was one meeting but he cannot provide the man's name on tape. Instead he gives the police a phone number and tells him to call it to find out. This, it is clear, was the number for his MI6 handler.
Litvinenko had met his MI6 handler - properly known as a "case officer" - at the cafe in Waterstone's in Piccadilly the day before the meeting at which he was allegedly poisoned. The handler, known as Martin although that will not be his real name, drank coffee, while the Russian had hot chocolate and three pastries.
Bank statements
When another tape transcript begins, it is clear that "Martin" later came to the hospital to visit Litvinenko.
The police officer asks if the man Litvinenko met on 31 October was the same man who had just been in the hospital room fifteen minutes earlier. Litvinenko says it was. They say no more about him.
Marina Litvinenko was adamant in her evidence that her husband was not an "agent", but rather a consultant to the British Secret Intelligence Service.
In other words, he did not engage in actual spying. Instead, he was said to be providing information on Russian organised crime. He provided this not just to the British but also other European countries, particularly the Spanish authorities.
Litvinenko, we learned, apparently also received a passport in a different name from British intelligence. This may have been used to travel around Europe on this consulting work. He also may have had at least one phone provided by MI6 or used to contact them.
The inquiry also produced Alexander Litvinenko's bank statements. These were shown in court, and one regular payment could be seen for £2,000, but the name was blacked out. This was from MI6.
Litvinenko told Alex Goldfarb - a friend who had helped him in his escape from Russia - that he began working for MI6 in 2003 although the regular payments may have started later.
The inquiry was careful not to get into too much detail about this relationship with British intelligence.
When Goldfarb was asked about Litvinenko's links with MI6, the lawyer for the inquiry specifically told him to answer the questions "yes or no", apparently to avoid too many details coming out.
All press and public were also cleared from the main court room for Goldfarb's testimony.
Instead they were allowed only into an annexe which had a five-minute delay on the video feed, which would enable the feed to be interrupted if anything sensitive came out.
Goldfarb provided details of how he and Litvinenko had sought asylum from the US in Turkey before travelling to the UK in 2000.
They had gone to the US embassy and Litvinenko had gone into the "bubble" - the term for a secure room in an embassy soundproofed against eavesdropping.
Here he was asked questions including some from individuals who were apparently present via a video link from the US. However, the US did not offer him asylum. Instead Litvinenko booked a flight that transited through London's Heathrow airport.
'Singled out for elimination'
On arrival he approached a policeman who must have thought he had suddenly stepped on the pages of a Cold War spy thriller as the Russian said he was an officer of the "KGB" and wanted asylum.
The escape from Russia via Turkey was funded by Boris Berezovsky, the Russian tycoon who from London became a fierce critic of President Putin.
Alex Goldfarb indicated that MI6 had concerns over paying Litvinenko more while he was so closely associated with Boris Berezovsky, who had been paying him a retainer after he arrived in the UK. Berezovsky later reduced the payments. This appears to have left Litvinenko caught between two paymasters, unable to get enough from either of them.
We also learned that there had been other threats against Litvinenko after he spoke out about corruption in the security service where he worked.
Before he left Russia, he was warned that both he and his son, then six years old, would be killed. In Britain, he received an email from a former colleague warning he had been singled out for "elimination" and should get his will ready. His home in London also seems to have been targeted in a low-level arson attack.
From the tapes we also learn that while many thought he was only suffering from a stomach bug or some other illness, Litvinenko himself thought he had been poisoned the night he fell ill - after he began foaming at the mouth.
He also quickly suspected the two men - Andrei Lugovoi and Dimitri Kovtun whom he met on 1 November, and who deny playing any part in his death.
However, Litvinenko from his hospital bed apparently tried to make sure their names were not made public, instead allowing suspicion to fall on an Italian Mario Scaramella whom he also met on the 1 November.
This was because Litvinenko wanted to lure Lugovoi into a false sense of security so he might come back to the UK where he could be questioned. The plan did not work. As he lay dying, Litvinenko blamed the Russian secret services and Vladimir Putin personally for his death.
The inquiry also heard from his son Anatoly, who was only 12 years old when his father died.
He remembered how proud his father had been at becoming a British citizen just before his death.
His father's relationship with the most secret part of the British state may already been exposed to a surprising degree, but the real details are likely only to be heard when the inquiry moves into closed session and the doors are locked to keep the press and public out.
---
The Litvinenko case
23 Nov 2006 - Litvinenko dies three weeks after having tea with former agents Andrei Lugovoi and Dmitri Kovtun in London
24 Nov 2006 - His death is attributed to polonium-210
22 May 2007 - Britain's director of public prosecutions decides Lugovoi should be charged with the murder of Litvinenko
31 May 2007 - Lugovoi denies any involvement in his death but says Litvinenko was a British spy
5 Jul 2007 - Russia officially refuses to extradite Lugovoi, saying its constitution does not allow it
May-June 2013 - Inquest into Litvinenko's death delayed as coroner decides a public inquiry would be preferable, as it would be able to hear some evidence in secret
July 2013 - Ministers rule out public inquiry
Jan 2014 - Marina Litvinenko engages in High Court fight to force a public inquiry
11 Feb 2014 - High Court says the Home Office had been wrong to rule out an inquiry before the outcome of an inquest
July 2014 - Public inquiry announced by Home Office
More from Gordon: Will inquiry find answers?
---