Operation Elveden: Budget leaker Jonathan Hall avoids jail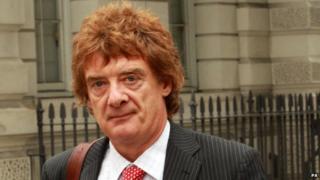 A press officer for Her Majesty's Revenue and Customs (HMRC) has been given an eight-month suspended sentence after he admitted leaking details of the 2010 budget to the Sun.
Jonathan Hall, 53, pleaded guilty to conspiracy to commit misconduct in a public office.
He accepted £17,475 for the tips he gave Sun reporter Clodagh Hartley.
Judge Peter Rook QC said one reason he had avoided jail was because he had waited 32 months to find out his fate.
He was sentenced at the Old Bailey and given eight months in jail suspended for two years, and ordered to carry out 200 hours of unpaid work and pay prosecution costs of £535.
'Unauthorised leaking'
The judge said: "Your job was to manage the dissemination of news, not to disclose it for your personal enrichment.
"Between April 2008 and July 2011 you sold information - receiving rewards to the sum of £17,475 - including the unauthorised leaking of details of the 2010 budget before the Chancellor had the chance to speak in parliament."
The information he gave the journalist was used to create a double-page spread about Alistair Darling's budget, before he stood up to deliver it.
The judge added that the "real criminality" in Hall's case rested with the fact that he had two paymasters - HMRC and News International, which owns the tabloid.
The judge told Hall that an aggravating feature in the case was that he had involved his girlfriend Marta Bukarewicz in his crime.
Both journalist Ms Hartley, 40, of Brockley, south-east London, and Ms Bukarewicz, 45, of Kentish Town, north London, were cleared of the same charge after a trial in November.
Hall was arrested as part of Operation Elveden, Scotland Yard's investigation into corrupt payments to public officials.
'Odd fish'
Prosecutor Zoe Johnson QC told the court that Hall, also of Kentish Town, was senior press officer at the law enforcement desk for HMRC.
She said his role was to answer questions for journalists and identify opportunities for media coverage, and react to negative stories.
"He was privy to confidential budgetary decisions, tax affairs and fiscal policies.
"Of the 18 articles in the Sun for which he was paid, 10 were in breach of his duty of confidentiality and amount to unauthorised disclosure," she said.
In mitigation, Richard Wormald said Hall was "rather an odd fish landing a job in the civil service" as he had formerly been in a rock band.
A confiscation hearing has been set for 16 April at the Old Bailey.