New Royal Navy £2 coin to be 'rarest in circulation'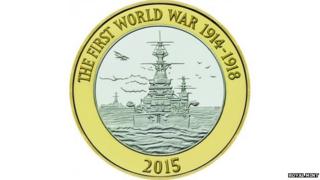 A £2 coin which commemorates the Royal Navy's efforts in World War One is to become the rarest coin in UK circulation, the Royal Mint has said.
The Mint has issued 100 of the coins in partnership with visitor facilities on HMS Belfast in London.
Some visitors to the shop of the restored warship may find one of the coins in their change.
They will be the last to show the current portrait of the Queen, making them extremely rare.
The Mint, based in Llantrisant, south Wales, has also issued the rare version as a commemorative coin, available to buy on the company's website for £10.
The commemorative coin is also technically legal tender, although those who pay £10 for it would be unlikely to let it go into general circulation by spending it, thus losing £8.
The Mint said the coin's battleship design was "a fitting tribute" to the Royal Navy's role in WW1. It continues a series commemorating the WW1 centenary, and features a design by military artist David Rowlands.
A second version of the £2 coin will enter wider circulation later in the year, featuring a new portrait of the Queen.
Shane Bissett, the Mint's director of commemorative coin and medals, said the government-owned company had "strong connections to the military, having produced medals awarded to our armed forces personnel since the Battle of Waterloo".
The Royal Mint would like anyone who finds one of the £2 coins in their change to share a photo on its Facebook page or post it on Twitter adding #coinhunt.