Costa Concordia: UK survivors seek financial settlements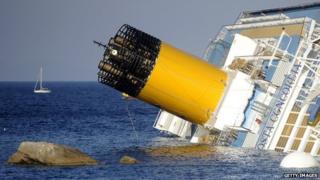 Lawyers for Britons caught up in the Costa Concordia disaster say they are continuing to fight for settlements, after the ship's captain was jailed.
The ship had about 4,000 passengers on board when it hit rocks off the Italian coast and sank in 2012, killing 32.
Its captain Francesco Schettino was found guilty of manslaughter and sentenced to 16 years in prison.
British victims, including four crew and six passengers, are seeking damages for injuries and psychological effects.
Philip Banks, from law firm Irwin Mitchell, which is representing some victims, said survivors has suffered a "horrendous ordeal which some may never truly overcome".
'Specialist therapy'
Some passengers say they have suffered nightmares and flashbacks, while others say they were were diagnosed with post-traumatic stress disorder.
"The trauma they have been through has left some of them needing specialist therapy and counselling to come to terms with what happened and enable them to begin to move on with their lives," Mr Banks said.
The firm has secured undisclosed settlements for a number of British passengers through the UK courts against Italian cruise operator, Costa Crociere Spa.
Lawyers were "continuing to fight for the rights of the remaining passengers and crew whose cases have not yet settled", the firm said in a statement.
It said it was working with Italian lawyers to begin court proceedings through the Italian legal system.
Mr Banks said settlements would allow people to pay for treatments, to cover their lost earnings, and to replace personal items lost on board.
"It will also compensate them for pain and suffering," he added.
Schettino, the Costa Concordia's captain, was sentenced to 10 years in prison for multiple manslaughter, as well as five years for causing the shipwreck and one year for abandoning his passengers.
Investigators severely criticised his handling of the disaster, accusing him of bringing the 290 metre-long (317ft long) vessel too close to shore when it struck rocks off the Tuscan island of Giglio.
The ship was ripped open when it hit the shore and more than 4,000 passengers and crew were forced into a chaotic evacuation.
'Terrible flashbacks'
Among those on board was Joe Stribley, 23, from Maidstone, in Kent, who worked on the ship as a dancer.
He was off-duty and was in his cabin when he felt the vessel rock to one side.
"I saw that the ship was starting to sink and extreme panic set in and I thought that I was going to die," he said.
He jumped into the sea from the ship and managed to swim to shore.
After returning home he said he became withdrawn as he struggled to deal with the shock of what had happened.
"Every time I closed my eyes I could see it all happening again and I couldn't sleep for several weeks as I suffered from terrible flashbacks and nightmares," he said.
"It affected my whole life, including my ability to work and I continue to suffer today."
Another dancer, Rosalyn Rincon, from Blackpool, in Lancashire, also managed to swim to shore from the stricken liner.
The 33-year-old had been taking part in a magic show and her first task was to escape from inside a magician's box. She said: "It felt like a horrible nightmare. I was trying to help other passengers get to safety and then suddenly realised that there were no other lifeboats."
"It dawned on me that I was not going to be rescued. I couldn't stop shaking and started to really panic."
She said friends and family noticed a "dramatic change" in her when she returned home.
"I had lost all my confidence and struggled to come to terms with what had happened.
"I was later diagnosed with post-traumatic stress disorder and started counselling sessions to help me with the flashbacks and I eventually stopped having nightmares."