Defence workers accept offer to end pay dispute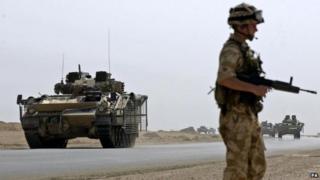 Defence workers who maintain and repair military kit have accepted an offer to end a dispute over pay.
Members of Unite at the Defence Support Group (DSG) voted by 9-1 in favour of a 1% pay rise plus a bonus of £1,250.
The union carried out 16 days of industrial action, including a 10-day walkout in December, after originally being offered a 1% pay increase.
The Ministry of Defence said DSG would be making "every effort to regain any output lost in December".
The workers are based at sites including Bovington in Dorset, Catterick in North Yorkshire, Colchester in Essex, Donnington in Shropshire, Stirling, Sealand in north Wales and Warminster in Wiltshire.
Unite praised the resolve of DSG's members ahead of the group's sale to engineering firm Babcock in April.
Unite national officer Mike McCartney said: "This significantly improved pay deal would not have been possible without the resolve of members who were determined to get a just and fair deal.
"It represents a significant increase on what was originally on offer and shows what can be achieved when workers stand shoulder to shoulder."
An MoD spokesman said: "We are pleased that DSG was able to settle this pay dispute without any further industrial action."