Ukraine: UK armoured cars delivered to Ukraine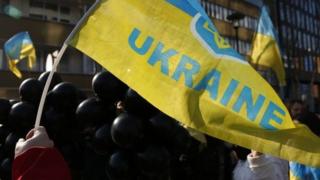 Former British military Saxon armoured vehicles have been delivered to Ukraine by a private firm.
The Ministry of Defence confirmed these were out-of-service unarmed vehicles and not lethal equipment.
The vehicles were transferred under a 2013 deal that pre-dated the current conflict.
A Ukrainian news agency has reported that 20 British Saxon armoured cars have been delivered to Ukraine, with another 55 expected to arrive soon.
The MoD could not confirm these figures.
Thousands of people have died in almost a year of fighting in the region.
A MoD spokeswoman said the sale had been organised for some time through the Disposal Services authority, which deals with obsolete military equipment.
She said the delivery did not represent an escalation of British involvement in Ukraine.
Peace deal
She said: "As the foreign secretary has made clear, our policy since the beginning of the crisis has been to supply non-lethal assistance to the Ukrainian Armed Forces.
"There has been no change to this and we have not provided lethal assistance.
"These vehicles were provided unarmed under a commercial contract dating 2013 by a private company. They offer protective mobility to personnel, and are defensive in nature; they are not close combat vehicles."
The crisis in Ukraine began in November 2013 when pro-Moscow President Viktor Yanukovych's government abandoned a deal with the European Union in favour of stronger ties with Russia.
Fighting broke out between pro-Russian rebels and the Ukrainian forces.
A new ceasefire deal for eastern Ukraine has now been brokered to end the fighting between the Ukrainian army and the rebels, from 00:00 local time on 15 February (22:00 GMT on 14 February).