Alexander Litvinenko called suspect 'a good friend', inquiry told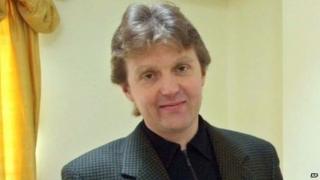 Alexander Litvinenko once described his suspected murderer as a "good friend", the inquiry into his death has heard.
Mr Litvinenko's business associate Dean Attew said the spy introduced him to fellow Russian Andrei Lugovoi, saying his compatriot could be good for future business.
Mr Lugovoi remains in Russia with Dmitry Kovtun, who is also suspected over Mr Litvinenko's death.
The pair have always denied poisoning Mr Litvinenko with polonium-210.
Mr Litvinenko, a former Russian security service officer who became a vocal critic of the Kremlin and fled to Britain, died on 23 November 2006 at University College Hospital.
He worked for Mr Attew by carrying out due diligence reports for his business, Titon, which is an international subsidiary of security company Erinys.
He told the inquiry that Mr Litvinenko had introduced him to Mr Lugovoi, a former Russian intelligence agent, at an airport.
But Mr Attew did not feel comfortable with his associate's contact.
He said: "Seven years watching people around gaming tables, and reading body language, left me feeling extremely uncomfortable."
Mr Attew also described Mr Lugovoi as being "scary" and "cold" but added that Mr Litvinenko did not mention him from his hospital bed in November 2006.
Mr Attew also told the inquiry that he was aware that his own name had been brought up in Russia as having a "particular relationship" with Mr Litvinenko.
Asked by Ben Emmerson QC, acting for Mr Litvinenko's widow Marina, what the Russians thought this relationship was, Mr Attew replied: "That I was Sasha's handler for MI6."
The inquiry also heard evidence that traces of polonium-210 were found in an office that Mr Lugovoi and Mr Kovtun visited on 31 October 2006.
The offices of Eco3 investment company were opposite the building Mr Litvinenko regularly visited as part of his work for Titon.
Nikolay Gorokhov, who worked at the firm, told the inquiry that on the day of Mr Litvinenko's death police arrived to check the office and that traces of polonium-210 were found.
He added that he was also tested and in December that year was told that he had tested positive for the radioactive agent.
The inquiry continues at the Royal Courts of Justice.
---
The Litvinenko case
23 Nov 2006 - Mr Litvinenko dies three weeks after having tea with former agents Andrei Lugovoi and Dmitri Kovtun in London
24 Nov 2006 - His death is attributed to polonium-210
22 May 2007 - Britain's director of public prosecutions decides Mr Lugovoi should be charged with the murder of Mr Litvinenko
31 May 2007 - Mr Lugovoi denies any involvement in his death but says Mr Litvinenko was a British spy
5 Jul 2007 - Russia officially refuses to extradite Mr Lugovoi, saying its constitution does not allow it
May-June 2013 - Inquest into Mr Litvinenko's death delayed as coroner decides a public inquiry would be preferable, as it would be able to hear some evidence in secret
July 2013 - Ministers rule out public inquiry
Jan 2014 - Marina Litvinenko in High Court fight to force a public inquiry
11 Feb 2014 - High Court says the Home Office had been wrong to rule out an inquiry before the outcome of an inquest
July 2014 - Public inquiry announced by Home Office
---