Seven come forward in chant appeal after Chelsea game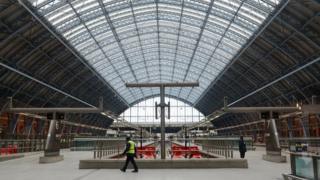 Seven men identified as part of an investigation into alleged racist chanting after a Chelsea game in Paris have now come forward, police say.
The men, thought to be Chelsea fans, were pictured at London's St Pancras train station last Wednesday.
The alleged chanting in London happened the day after the club's 1-1 draw with Paris St-Germain.
British Transport Police (BTP), which published photos of the men, said they would be interviewed "in due course".
The alleged chanting happened after an incident of alleged racism by Chelsea supporters on the Paris Metro, when footage showed a black man being pushed from a train.
Chelsea FC has already barred five fans from attending Stamford Bridge following the incident on the Metro.