Prison officer Mark Blake 'justified' leaks to The Sun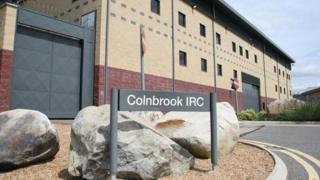 An officer at a Serco-run immigration centre justified leaking stories to The Sun by claiming the firm turned a blind eye to corruption, a court has heard.
Mark Blake, a detention custody officer at Colnbrook Immigration Removal Centre, was paid nearly £8,000 for tips between 2008 and 2010, the trial heard.
Those tips allegedly led to headlines about "cushy" conditions at the west London facility, such as "Gastrojail".
Mr Blake, 43, from Slough, denies misconduct in a public office.
The tips led to 10 stories in the tabloid newspaper, including headlines "Wiis for foreign lags in UK jails" and "We fund massages for foreign killers", jurors were told.
Prosecutor Jonathan Rees QC told the Old Bailey jury that Mr Blake had received training about not talking to the press.
When police arrested him in March 2013, he told them the information was "all public interest", the court heard.
'No pay expected'
Colnbrook is an immigration removal centre, near Heathrow Airport, which provides 318 spaces for male and female detainees, including individuals considered "high risk".
Mr Blake justified leaking stories to police by saying there was violence between detainees and "widespread drug abuse" at the centre, Mr Rees said.
The defendant also told police that Serco would give detainees items to avoid paying fines if disorder broke out, the court heard.
He gave an example of a man who assaulted a female officer and was given a new X-box to play, the jury heard.
Mr Blake told police that the detainee's games console was replaced when he smashed it.
He said he was told to "man up" and get on with his job even though he was distressed about what was going on, jurors heard.
Mr Blake said he first contacted The Sun because he knew what was happening at Colnbrook was wrong and did not expect payment, the court heard.
However, Mr Rees told the jury that the prosecution did not accept Mr Blake's assertion that he made a written or verbal complaint before going to The Sun about every single story.
Pop star's autograph
The court was told of another alleged conspiracy between Daily Mirror reporter Graham Brough and a prison officer at HMP Pentonville in north London.
The officer allegedly sold stories to the newspaper about celebrity Jack Tweed being on suicide watch.
Another story claimed that inmates clamoured for pop star Boy George's autograph, the court heard.
Between January 2009 and January 2010, the officer, who cannot be named, received four payments from the Daily Mirror totalling £1,150, Mr Rees said.
Mark Blake denies conspiring to commit misconduct, and misconduct in a public office.
He is standing trial alongside Mr Brough, 54, of south west London, and Sun journalists Tom Wells, 43, of south east London; Neil Millard, 33, of south Croydon; and a Sun reporter who cannot be named.
All deny conspiring to commit misconduct. The trial continues.