Alexander Litvinenko 'ignored warning', inquiry told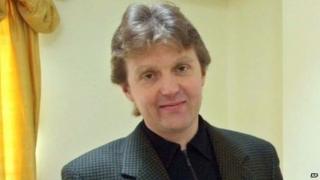 Alexander Litvinenko brushed off warnings about possible threats to his life hours before he was poisoned, the inquiry into his death has heard.
Witness Mario Scaramella said he had warned the Russian ex-spy that they were both at risk.
But Mr Litvinenko seemed more focused on eating his food, he said.
Mr Litvinenko consumed tea laced with polonium-210 later that day, 1 November 2006, the inquiry was told. He died in hospital three weeks later.
The 43-year-old had been an officer with the Federal Security Service (FSB) - the successor to the KGB - but fled to Britain where he became a fierce critic of the Kremlin.
Mr Scaramella said he first met Mr Litvinenko in late 2003 after his appointment as an adviser to an inquiry into Soviet intelligence set up in his home country, Italy.
'Serious threat'
He learned of a specific threat to himself and Mr Litvinenko via an email in early October 2006, and flew to London the day before the Russian fell ill, he said.
The pair arranged to meet in Piccadilly and went to a sushi restaurant.
"We started to talk about general issues and then I said 'let's talk seriously,' he said.
"He was more focused about his food than the email.
"I was saying 'This is a serious issue'. He said 'I have to check'."
Mr Scaramella said he told Mr Litvinenko: "Someone is following me and looking to kill me, and the same is about you."
The Italian said he was "stressed" by the situation and wrote a note to security services and police in case he was found poisoned.
Mr Litvinenko, 43, consumed tea laced with radioactive chemical polonium while meeting Russians Andrei Lugovoi and Dmitry Kovtun at the Millennium Hotel in Grosvenor Square, London, later that day.
The pair have been identified as the prime suspects in the killing of Mr Litvinenko.
Both men deny any involvement and remain in Russia. The public inquiry continues at the Royal Courts of Justice.
---
The Litvinenko case
23 Nov 2006 - Mr Litvinenko dies three weeks after having tea with former agents Andrei Lugovoi and Dmitri Kovtun in London
24 Nov 2006 - His death is attributed to polonium-210
22 May 2007 - Britain's director of public prosecutions decides Mr Lugovoi should be charged with the murder of Mr Litvinenko
31 May 2007 - Mr Lugovoi denies any involvement in his death but says Mr Litvinenko was a British spy
5 Jul 2007 - Russia officially refuses to extradite Mr Lugovoi, saying its constitution does not allow it
May-June 2013 - Inquest into Mr Litvinenko's death delayed as coroner decides a public inquiry would be preferable, as it would be able to hear some evidence in secret
July 2013 - Ministers rule out public inquiry
Jan 2014 - Marina Litvinenko in High Court fight to force a public inquiry
11 Feb 2014 - High Court says the Home Office had been wrong to rule out an inquiry before the outcome of an inquest
July 2014 - Public inquiry announced by Home Office
---