'Jihadi John': Reaction as militant named as Mohammed Emwazi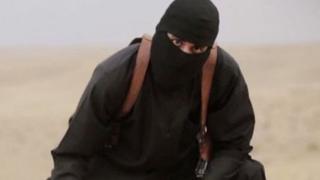 The Islamic State militant known as "Jihadi John" has been named as Mohammed Emwazi, a Kuwaiti-born British man from west London.
Emwazi has appeared in several videos showing the beheadings of western hostages, including British taxi driver Alan Henning and US journalist James Foley.
Organisations and people, including the family of one beheading victim, have reacted to the news.
Family of Steven Sotloff, US journalist beheaded in a video believed to feature Emwazi
The family told the BBC they were "relieved" and "take comfort" from Emwazi's identity being revealed.
"We want to sit in a courtroom, watch him sentenced and see him sent to a super-max prison where he will spend the rest of his life in isolation," they added.
Asim Qureshi - who met Mohammed Emwazi - works for Cage, which campaigns "against the War on Terror"
"You might be surprised to know that the Mohammed that I knew was extremely kind, extremely gentle, extremely soft spoken, was the most humble young person that I knew."
He added: "When are we going to finally learn that when we treat people as if they're outsiders they will inevitably feel like outsiders and they will look for belonging elsewhere.
"Our entire national security strategy for the last 13 years has only increased alienation, has only increased people feeling like they don't belong.
"Why? Because a narrative of injustice has taken root - a narrative of impunity, that there is no accountability for the way in which our security agencies operate.
"Unless we arrest that narrative, we're just going to keep on seeing these things happen over and over again."
University of Westminster statement
"A Mohammed Emwazi left the university six years ago.
"If these allegations are true, we are shocked and sickened by the news.
"Our thoughts are with the victims and their families.
"We have students from 150 countries and their safety is of paramount concern.
"With other universities in London, we are working to implement the government's Prevent strategy to tackle extremism."
Downing Street statement
"The prime minister would be concerned about information being put into the public domain at any time that might jeopardise ongoing police or security investigations or the safety of British citizens.
"There is an ongoing investigation.
"It is absolutely right that we allow the police and security agencies to do all they can to bring those responsible to justice and to help keep British people safe."
Haras Rafiq, of the Quilliam Foundation, a London-based think tank focussing on Islamism
"Ultimately he's the bogeyman.
"If we look at this as a corporate organisation, because [Islamic State] have been behaving as a corporate entity, he's one of their star products, one of their best sellers in terms of marketing, in terms of getting out to people and making them feel afraid.
"But we also have got to be careful because one of the things I remember when Osama Bin Laden was killed, there were a number of people who actually said 'you know, now that we've actually taken off the head of the snake we're winning this war'.
"But the reality is we didn't kill the ideology."
Dr David Lowe, lecturer in crime and security at Liverpool John Moores University and former counter-terrorism officer
"What you're looking at here is someone who has built up a history of association with these [militant] groups.
"He's gone out to Syria and he would be, if you like, a minor player.
"But clearly he's been of great use to Islamic State in propaganda terms because you have that UK accent on those videos and those messages are clearly to not just us in the UK but certainly to the West."
Bernadette Meehan, US National Security Council
"The US government continues to investigate the murder of American citizens by Isil (Islamic State).
"We will not comment on ongoing investigations and therefore are not in a position to confirm or deny the identity of this individual."