Prince William in Japan: From one ancient institution to another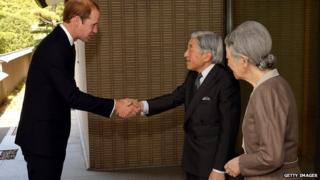 When Prince William met Emperor Akihito it was an encounter between the representatives of one ancient institution and of another, which is even more ancient.
Japan's imperial family is the world's oldest continuous hereditary monarchy.
The latest incumbent of the Chrysanthemum throne is just an emperor. Previous Japanese monarchs had the status of living gods - something William's family would probably have found attractive during their difficult times in the 1980s and 1990s.
In these more settled times for the House of Windsor, the prince is in Tokyo promoting British government interests.
Born to be king, one day - as things stand - William confided in an audience about an alternative career plan if destiny wasn't in play.
He said, as a child, he'd dreamt of becoming an astronaut and flirted with the idea of being either a policeman or a fire breather.