Sir Cliff Richard lawyers criticise letter release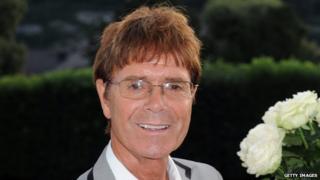 Sir Cliff Richard's lawyers have criticised a committee of MPs for publishing a letter about the police inquiry into sex abuse allegations against the singer.
The letter from South Yorkshire Police said the investigation into Sir Cliff had "increased significantly in size".
His lawyers said the disclosure was unnecessary and have written to Home Affairs Committee chairman Keith Vaz.
Mr Vaz said it was normal to publish evidence put before the committee.
Sir Cliff's lawyers complained of another round of "extremely damaging media coverage" as a result of the release.
Sir Cliff has been interviewed about an allegation of a sex crime, but was not arrested or charged.
The letter from South Yorkshire Police's chief constable - which emerged earlier this week - revealed that the investigation involved "more than one allegation".
The letter followed a police raid on Sir Cliff's Berkshire home last August.
The BBC understands the original allegation relates to an alleged assault at an event featuring US preacher Billy Graham at Bramall Lane in Sheffield in 1985.
Gideon Benaim, of Michael Simkins LLP, said in his letter to the Home Affairs Committee that had Sir Cliff been given an opportunity to comment "the damage" could have been avoided.
"The committee have, through their actions, facilitated coverage which would not have otherwise occurred." he said.
"It does of course remain the case that our client has neither been arrested nor charged with any offence and that he denies any wrongdoing whatsoever.
"In addition to not knowing much about the claims of new allegations, our client has not of course been interviewed about them."
'Policy to publish'
Sir Cliff has said the claims against him were "absurd and untrue" and he had "never, in my life, assaulted anyone".
Home Affairs Committee chairman Keith Vaz, in a letter of response to Sir Cliff's lawyers, said: "Unless a letter or document is marked private and confidential it has always been the policy of the committee to publish whatever we receive.
"South Yorkshire Police specifically asked for the redaction of certain parts of the letter before publication."