Sorry seems to be the easiest word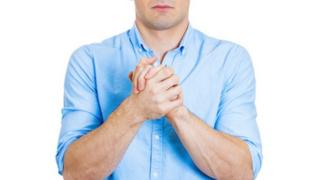 For mere mortals, saying sorry is always hard to do.
Hard because it implies personal guilt or responsibility for a wrong. Hard because it suggests you might just be punished.
It is also hard because there is an expectation that as the guilty party you will from then on, strive to make amends - right? Wrong.
Think again. The humble apology is not what it used to be. In fact it has been stripped of much of its meaning.
The boss of the HSBC Bank apologised recently for what he called the "unacceptable" practices in its Swiss-based private banking subsidiary.
It was accused of helping its wealthy clients dodge tax. But the boss didn't feel the need to fall on his sword, sacrifice his job or make any substantial amends.
The errors were mostly the fault of those in charge in Switzerland, he said. The implication was if any heads would roll, then more junior heads would roll.
Just a few years after bankers brought the British economy to the brink of collapse, requiring years of austerity to repair the damage, many are now once again earning generous bonuses.
The profits were theirs, the errors were theirs - but the losses and the subsequent bill, it seems, are all ours.
The blame was generalised. It is perhaps a neologism. After nationalisation and privatisation comes generalisation: the enforced collectivisation of blame where responsibility is diffused.
There were few apologies and fewer still admissions of real guilt.
And did any bankers go to jail for wrecking the state finances? You guessed it.
There were similar themes this week after a review was published into how 370 vulnerable girls and women in Oxfordshire had been trafficked and sexually exploited over 15 years.
A gang of men was jailed for the crimes in 2013.
But the review into how the authorities had erred found only "systematic failings" in tackling the problem.
Could the crimes have been identified or prevented earlier? The answer was yes. But the weaknesses were organisational.
Politicians also find the "s" word tricky.
The UK's Deputy Prime Minister Nick Clegg saw his popularity plummet after he broke a major campaign pledge to cut the fees students pay to study.
His promise had been popular - especially with students - but when his Liberal Democrat Party joined the Conservative-led coalition government in 2010, the policy was abandoned and student fees rose as sharply as his popularity fell.
Desperate to claw back his reputation, he later apologised, not for breaking the key manifesto pledge but for having made the pledge in the first place. In other words, it wasn't an apology at all.
Some wag intent on a quick laugh then set his words to music, and the whole thing went viral.
Institutional apology
Then, there is the corporate or institutional apology.
Recently the trust that runs a major hospital apologised for the widespread sexual abuse that patients and staff had suffered on its premises at the hands of the entertainer Jimmy Savile.
Management of the day blinded by his celebrity and fundraising abilities had given him almost unfettered access to vulnerable patients, including children.
But in saying sorry, chairwoman of Buckinghamshire Healthcare NHS Trust, Hattie Llewelyn-Davies, noted the crimes had occurred between 25 and 50 years ago: in other words she was just 10 years old when the first assaults occurred.
So what does a non-apology apology actually mean?
Well in the language of the touchy-feely times we now inhabit, I guess it means: "I feel your pain. I can't (or won't) do anything about it mind, but ouch that must have hurt, so put it under the cold tap, bite your lip and move on."
Of course it is a lot better than not saying sorry, and institutions do have a sort of corporate responsibility, so it is probably the next best thing when those who are really guilty are not around, perhaps not even alive, anymore.
There can be no denying it: it is an awful lot easier to apologise for someone else's historical mistakes than one of your own now.
In the end, it seems, the modern apology is more about defusing a crisis while managing raw emotions and the media than it is about admitting real guilt and making amends.
Did I go on a bit? Wasn't my fault - but sorry anyway.